Benjoin (หูกระจงแดง)
<- BISP Green Love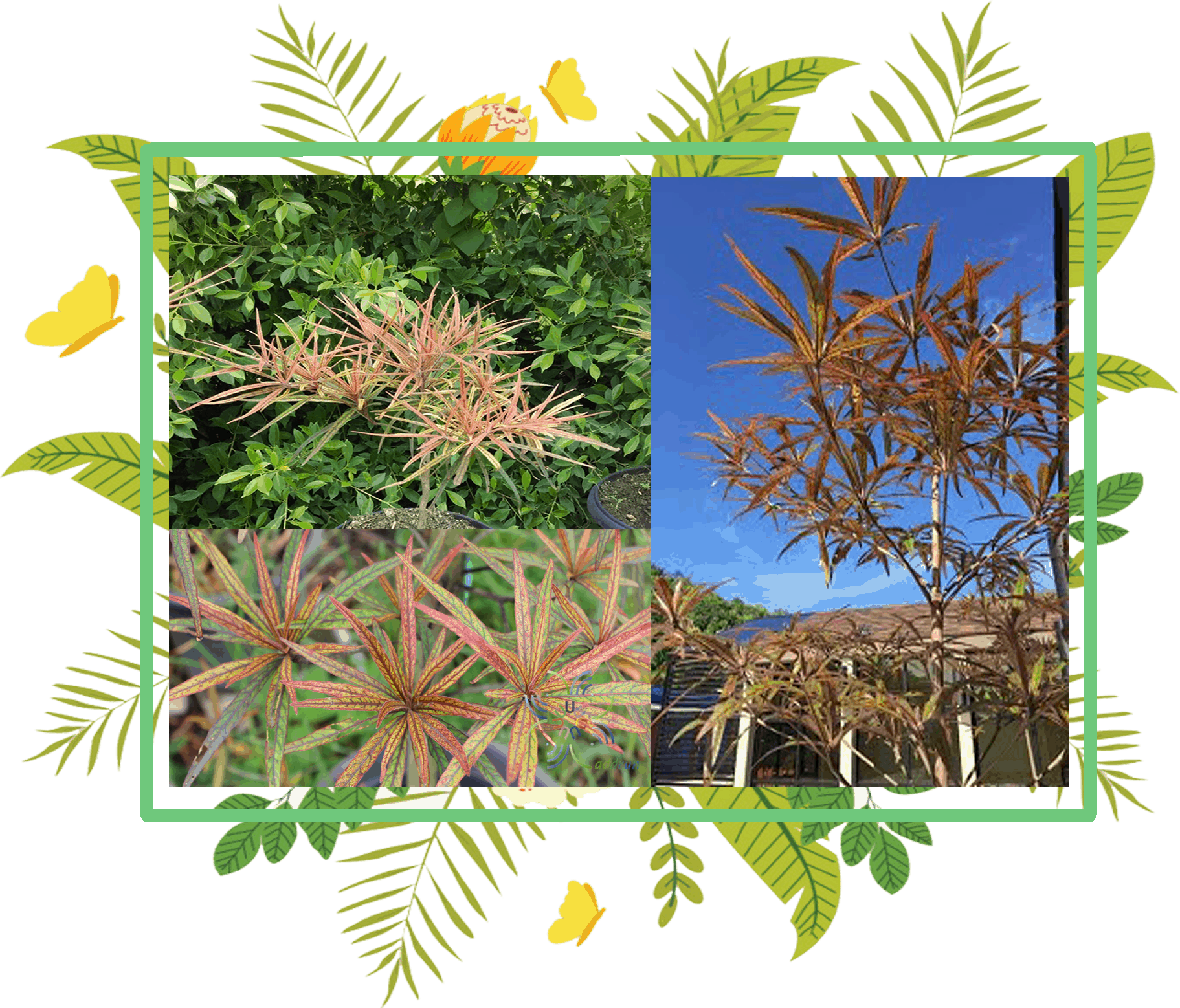 ข้อมูลทางวิทยาศาสตร์
ชื่อ/ชื่อทางวิทยาศาสตร์
Scientific name
หูกระจงแดง / Benjoin
Terminalia sp.
ชื่อวงศ์/Family name
COMBERTACEAE
ชื่ออื่น
Other name(s)
ป้องภัย (Pongpai) (ชื่อการค้า) , แผ่บารมีแดง
Benjoin, bois benzoin, bois binjouin, bois charron
ลักษณะ
Characteristics
ต้น ไม้ยืนต้น สูง 5-10 เมตร ลำต้นตั้งตรง สีแดงอมม่วงปนสีเขียวคล้ำเล็กน้อย แตกกิ่งก้านเป็นชั้นๆ ใบประกอบ เรียงวงรอบ ใบย่อย 8-12 ใบ รูปรีแคบหรือรูปแถบยาว ปลายแหลม โคนเป็นกาบ ขอบเรียบ ใบหนาคล้ายแผ่นหนัง ผิวเกลี้ยง เป็นมัน แผ่นใบสีแดงอมม่วงปนสีเขียวคล้ำเล็กน้อย เส้นกลางใบสีแดงเข้ม ก้านใบยาว

Tree 10–13 m. high; bark grey, longitudinally fissured; branchlets with purplish black bark peeling off in strips to reveal a light brown newly exposed surface; young shoots densely yellowish brown pubescent. Leaves spirally arranged; lamina elliptic to obovate-elliptic, 15–20 cm. long, 6.5–9 cm. wide, apex acute to obtuse, base obtuse to rounded, sparsely pubescent above, grey to yellowish brown pubescent on the venation beneath; lateral nerves 10–14 pairs, conspicuous above, prominent beneath, venation conspicuous beneath; petiole 2–3.5 cm. long, pubescent. Inflorescence of lateral spikes 8–10 cm. long; peduncle 2.5–3 cm. long, densely pubescent. Flowers pale yellow, fragrant, densely sericeous-tomentose outside. Fruit yellowish to reddish brown, oblong-elliptic, 7–7.5 cm. long, 3.5 cm. wide, apex obtuse, base cuneate, shortly pubescent; stipe 10 mm. long.

ประโยชน์
Uses and Utilization
ปลูกเป็นไม้ประดับ และใช้เป็นสมุนไพรรักษาโรคติดชื่อทางผิวหนัง. ท้องเสีย ใช้ทำเรือ และ เฟอร์นิเจอร์ บางครั้งใช้ในการปลูกป่า

Handsome ornament tree
The bark resin is used to treat skin infections and as sudorific, and bark decoctions or infusions to treat diarrhoea and dysentery and to stop bleeding. Leaf and bark decoctions are taken to treat colds, cough and bronchitis, usually in mixtures with other medicinal plants. Leaf and fruit decoctions are administered as emmenagogue. The wood has been used in construction and for carpentry, cartwheels and dug-out canoes. Terminalia bentzoë is sometimes planted for reafforestation.

Sources:

https://www.facebook.com/146711565383676/posts/911782165543275/
https://data.addrun.org/plant/archives/409-terminalia-sp

Special Notes
A Benjoin tree was planted on the 18th of June 2019 in remembrance of much-loved teacher, friend, and colleague, Mr. Iain Richardson who was Head of Sciences from the year 2011 until 2019.