Having just completed their poetry unit in English, three BISP students in Year 7 recently entered in the Council of British International Schools (COBIS) Key Stage 3 Poetry Competition.
The theme of the competition was Connections. Below are Heather, Eileen and Madelaine's diverse interpretations of this theme.
The Startling Truth, by Heather – Year 7

It is really no surprise
That science is actually maths in disguise
All those graphs that you make
All those pencils that you break
The periodic table to remember
For those tests in December
The 9 times table to recall
For that assessment in fall
These 2 subjects are connected
Way more than may have been expected
My History's a Mystery, by Eileen – Year 7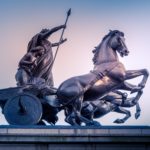 I may be connected to
THE VIKINGS
I might have their blood
I may be related to
THE VIKINGS
So don't push me in the mud
I may be connected to
THE TUDORS
And Henry the Eighth
I may be related to
THE TUDORS
So don't lose your faith
I may be connected to
BOUDICA
And all those guys
I may be related to
BOUDICA
So you're in for a surprise
I may be connected to
THE ROMANS
Don't kill me now
I may be related to
THE ROMANS
So kneel down and bow
I may be connected to
NAPOLEON
I am very short
I may be related to
NAPOLEON
So I'll thrash you with a snort
I don't know
MY OWN HISTORY
It's a complete
And utter mystery
I am surrounded by
ALL THIS HISTORY
But it's still a complete
And utter mystery
Excerpt from Survivor, by Madelaine – Year 7


Why be a hider, why be a seeker,
Just be a survivor.
Black people and white people
They fight all night
During their life
They have no rights.
No rights to be whoever they want to be.
It's all just a fight, a fight to be free.
No rights to express their individual opinions.
Why not just kill them with minions.
No rights to do whatever you like,
Whatever you do, is a hole with a spike.
People are starving
People are dying
Why can't we at least act like we're trying?
We need to feel sympathy for each other.
What if you just lost your mother?
Good luck to our Year 7 poets!
For more information on British International School, Phuket, please contact

[email protected]

.