Governance of BISP
A message from our CEO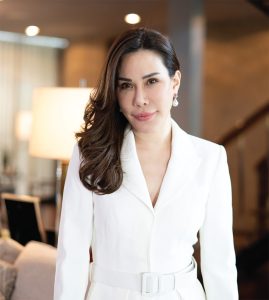 British International School, Phuket has always prided itself on maximising our students' potential through our heritage, traditions, and core values. Tradition at BISP means that we will always continue to emphasise building individuals who showcase respect, compassion, and integrity.  These core values remain timeless. Tradition is not about being staid by focusing on the past. Instead, traditions need to evolve and adapt in accordance to societal factors and norms in order to cultivate worldly and conscientious individuals.
We live in a fast flowing and dynamic period where information—both true and false—is unavoidable. Information is in your face all day, every day whether it is via traditional or social media, word of mouth from friends or our leaders alike; even in the music and movies we intake. Recent events have taught all of us the need to wade through dis-information in search of truth and balance. In a divided world, people need to listen more and understand all perspectives before formulating an opinion. It is essential, now more than ever before, to instil critical thought into the generations of tomorrow.
At British International School, Phuket (BISP), not only do we teach our students foundational and core education; our devoted faculty members also stimulate and encourage our students to apply their learnings across faculties, in a holistic manner inside and outside of the classroom. BISP will always leverage our core values by ensuring our students have these pillars as bedrocks of their being in order to maximise their individual potential in this rapidly changing world.
~ Dr. Apiramon Ourairat
Board of Governors
This body is similar to a Board of Trustees, and is directly appointed by the owners of the school. It has the following duties:
General oversight of the school (both business and academic standards; reputation; vision);
Acquisition and disposal of assets;
Transfer of funds;
Loans;
Oversight of the Executive Committee (EXCOMM).
The Board of Governors meets either annually or biannually in Bangkok, and on an as-needs basis.
Executive Committee (EXCOMM)
This Committee functions as the operating 'Board' of the school, and makes decisions relating to all school operations, including the appraisal of the Head. It meets at least once per term at the BISP campus. It also meets at least once each year with the Board of Governors, the parent body, the Parent Council, and the academic staff. It may co-opt members at its discretion, depending upon the perceived needs of its members.
The following are permanent members appointed by the Board of Governors:
CEO
Managing Director
Financial Director
Headmaster
Management
The school's management structure is composed of two integrated, though distinct, operating areas:
Academic Leadership
This is under the direct authority of the Headmaster and his Senior Leadership Team (SLT), which is composed of the Secondary Principal and the Primary Principal and their immediate deputies.
Business Management
This is under the direct authority of the Managing Director and his on-site team of Business Managers, who are responsible for all financial interactions, the maintenance of the campus, including security, transportation and catering, and the more general development of the school as a business.
CEO
This is the person ultimately responsible for the effective integration of the two operational management groups.
Parent Teachers Association (PTA)
Parent Teachers Association (PTA)        ||         [email protected]
Aim: To support, develop and improve all aspects of life at BISP.
The Parent Teachers Association (PTA) forms a partnership between home and school in order to support the best possible education for children at BISP. Parental consultation and engagement with the Headmaster, Principals, staff and the board of management, ensures the needs and perspectives of our international community are considered and supported.
The PTA is a voluntary organization and it organizes school activities like Christmas fairs, weekend markets, fundraising events and welcoming new parents, just to name a few events.
Objectives:
To provide a forum for parents and be positive and constructive ambassadors

To promote and assist in the development of the school and its community to create a safe and conducive environment for all.

To facilitate forms of communication to reach parents and allow the two way flow of information between parents and school, collecting feedback, providing assistance and support through parent representative meetings.

To engage with our diverse parent population as a frame of reference to gain perspectives and viewpoints from a broad international community.

To encourage more parental involvement in school or PTA related activities through social events, charities and activities that help the BISP community come together.

To advance the interest and goodwill of staff members, parents and students.

To support the school and Headmaster in developing strong home/school partnerships.

To welcome new families to the school community and support their transition to living in Phuket.
The PTA supports BISP's parents and teachers community through its role of facilitator and promoter of development. While complaints may arise from time to time, our primary focus is to foster positive communication and address any negative issues that may arise. However, it is important to note that the PTA does not have authority over operational or educational decision making within the school.