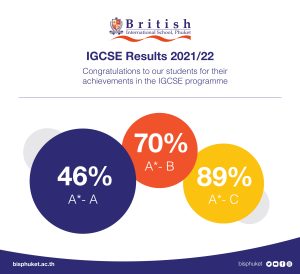 British International School, Phuket (BISP) is delighted with the results of our 2022 IGCSE cohort, with 89% of students receiving A*- C grades, 70% receiving A*- B and 46% receiving A*- A grades.
BISP Secondary School Principal, Neil Crossland commented, "We are extremely proud of our students for showing such resilience and commitment to their courses during what has been a very challenging two years due to the unpredictability of the ever-changing world situation." 
The BISP Year 11 cohort completed their studies in June. Fifteen students also took Early-Entry IGCSE exams in November 2021, with 100%  A* – B grades awarded in Mathematics and Foreign Language French. In addition, 6 of BISP's 72 IGCSE students received 5 or more A*s. 
BISP's Head of Upper School and IGCSE Coordinator, Tim Pearson, praised the students and teachers for their achievement. "Our students and teachers have proven that they can adapt very quickly to unpredictable circumstances and the fact that they undertook a rigorous 6 week set of evidence-gathering assessments before the real exams took place as a contingency measure is testament to their dedication and drive to succeed. This particular cohort had to study the entire two years of the course throughout the pandemic so extra congratulations to our 2022 IGCSE cohort for all their hard work and an outstanding set of results." 
In comparison, this year's results have surpassed our 2019 pre-pandemic IGCSE results, when full examinations last took place, which demonstrates how our students can rise above any challenge and excel. 
We are very proud of the results which reflect the stamina and dedication of our students and staff over the last two years which saw unpredictable and at times challenging scenarios for learning and teaching. BISP upper school students move confidently to continue studies at the IB level with a very solid academic and wellbeing base of knowledge and experience.  

BISP Headmaster, Simon Meredith
At the end of last academic year Year 11 marked the end of their IGCSE examinations with a celebratory dinner at the Outrigger Hotel Surin Beach. Their evening entertainment included musical and dance performances by the students, as well as a 'Baby Kahoot' and 'Funny Awards', including 'The Future CEO Award' and 'The Award for the best person to be stranded with on a desert island'. 
Students and staff enjoyed a sumptuous dinner buffet and had a ball creating memories in the professional pop-up photo booth. It was a fantastic evening of fun and laughter, and a fitting way to celebrate all of the students' hard work and dedication throughout their IGCSE studies and in their final examinations.