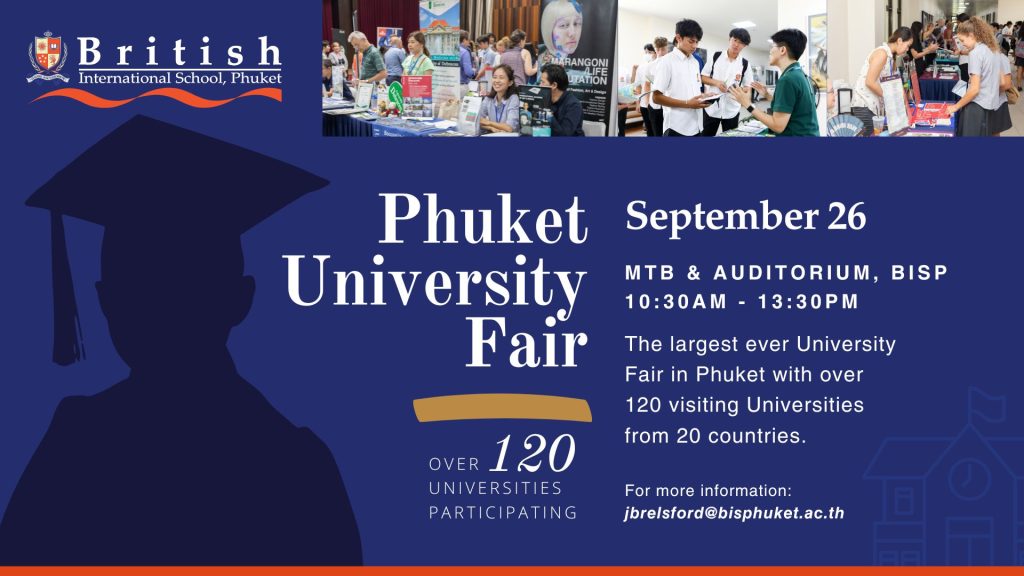 BISP will welcome 120 universities from 20 countries to campus on Monday 26th September at the upcoming 2022 'Phuket University Fair at BISP'.  
Universities from England, Japan, Hong Kong, Spain, Canada, Thailand, USA and several other countries will be attending the event. The aim of the Fair is to help connect students with university representatives from across the globe, but also to introduce them to various university options which they may not have previously considered.
The fair is open to attendees across the island, non-BISP students are to attend in their school uniform with a parent. If interested to attend the event, please arrive at BISP between 10:30 and 11:45 am. 
This year the fair will also feature some sessions for BISP parents such as the 'Blind Fair', an exercise to expand parents' thinking about universities away from only well-known/highly ranked universities, and to look at the individual qualities of various universities and how they fit with students' needs. Representatives will wear lab coats and are not allowed to mention the name of their institution while still answering questions about their university. 
Additional, country-specific presentations have been added to the end of the day. Parents are invited to sign up for one of these. The sessions will be conducted by representatives of universities in these countries. 
Sign up: https://bit.ly/BISPFair-Parents