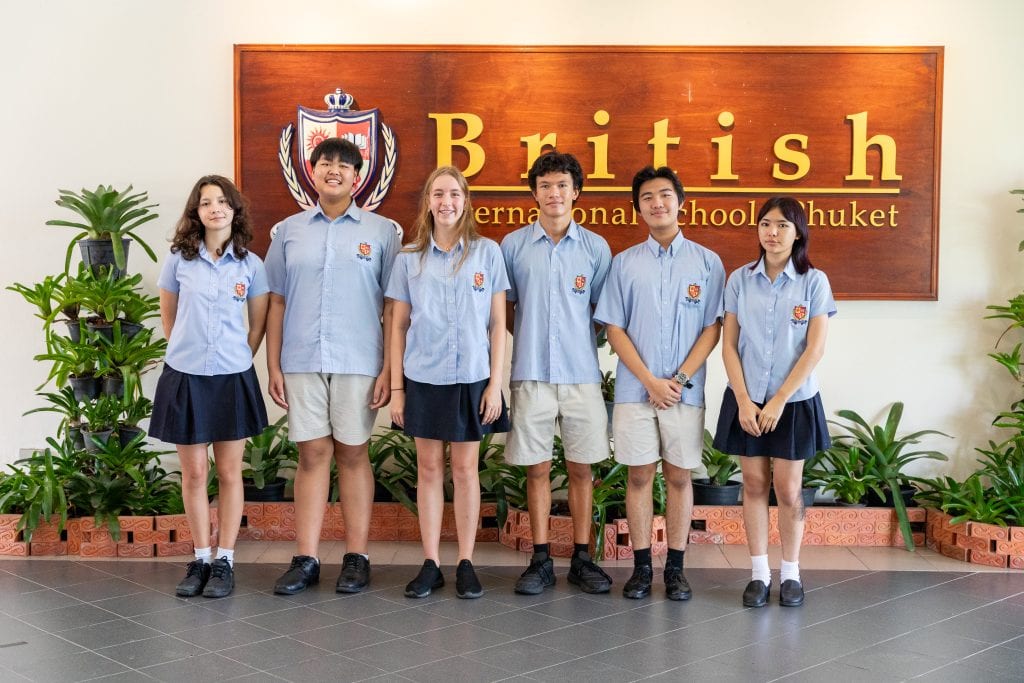 At BISP, student leadership is a vital part of our educational experience. All students are encouraged to develop their skills, qualities and sense of responsibility on a daily basis, both in the classroom and by participating in leadership roles within the school.
Our newly appointed Upper School Student Representatives serve as ambassadors for Years 10 and 11 students. They meet weekly and plan and lead fortnightly year group huddles during which achievements and birthdays are celebrated, information is shared and fun games and activities are unleashed on their respective year groups. They have also begun to play a role in organising sessions for Wellbeing Days, including whole-year group sports and team-building activities. In addition to this, these students have a responsibility to share feedback and opinions on school matters, and staff will also seek their input periodically. 
There is no doubt that these leadership experiences help students build interpersonal skills, confidence, and resilience, fostering personal growth and the potential to influence others. At the same time, our Student Representatives are a positive role model to their peers, inspiring and paving the way for others to get involved. At our school, leadership is all about actions, not titles, and our motto is to develop 'leaders for tomorrow.' 
Below, you will find details about the newly appointed student representatives and their reflections on their new roles:
"I am grateful for the opportunity to contribute and make a meaningful difference as a student representative. I aim to embrace the responsibility of turning our tough academic journey into a year filled with promise and value. This role resonates deeply with me as I step into the opportunity to support and fulfil the diverse needs and expectations of the students. My commitment this term is to ensure that every peer receives both the support and guidance necessary to excel and thrive throughout this important school year with both success and joy."

Zac – Year 11

Being a representative is a simple way to give back to my community. It's also an absolute honour to be representing the community I've grown up with. In my opinion, being representative is a responsibility to be the voice of my peers and to care. No one should be left out, no one on their own. Unity and solidarity are what makes a community and these are the key factors that help in times when people may feel pressured or nervous. Once an individual feels a sense of belonging, these negative feelings disappear.

These are the most important values I have and I am very excited for this year. I am ready and willing to work my hardest and put my most determination into this responsibility and I hope for this year to be one of enjoyment and success.

Zen – Year 11

For me, being a student rep isn't about what the position can do for me but what I can do with the position to give back to the community I've called home my entire life. Zen Zac and I represent the entirety of year 11. We represent and voice the fears or concerns felt by the student body as we navigate our way through the stress of the mock and IGCSE exams all while providing a safe learning environment that values mental health and community appreciation above all else.

Nunnapat – Year 11

Student representatives have an important job and I am so happy that I can call myself one. I am looking forward to helping the school become a safer and friendlier space. For me, being a student rep means being the person who connects and represents the whole of year ten. One of my main goals for this year is to bring everyone in my year group together. I want to help create new friendships and connections to bring everyone closer together. In year 10, starting the IGCSE course with exams, studying, and homework, there is a lot to think about. It can be very challenging for students to support themselves when things get busy and I am hoping to make sure that students are able to find their support, either with me, the other student representatives, or another friend.

Emma – Year 10

I am more than elated that I have been given an opportunity to lead my year group. Together alongside my other two wonderful student representatives and in collaboration with all teaching staff, I will help my year group survive IGCSE together (All 100 of us). Which we all can consider to be a massive step in our academic journey. One of the main aspects of the job that attracted me to apply would be the amount of communication required; not just in my year group but with nearly every student. I  for one could say I'm a social butterfly! This would help me massively in being the voice of my peers. I want my year group to see me as somebody that they can always come to to seek a helping hand. In doing so I must be open-minded and able to step outside my peer group. I can't wait to strengthen our bond in our year group and the accomplishments we shall achieve as one whole year group.

Mammoth – Year 10

I am excited to have been appointed as one of the student representatives this year due to the fact that I have been given the opportunity to become a voice for my grade. I am able to express their wants and their needs along with trying my best to meet them. I look forward to collaborating with other members of our school to help ensure we can be the best school possible and provide a healthy (and fun) learning environment for the students at BISP. 

Daisy – Year 10
Congratulations to our newly appointed Upper School Student Representatives, we hope they will be an inspiration to their peers and lead by example.