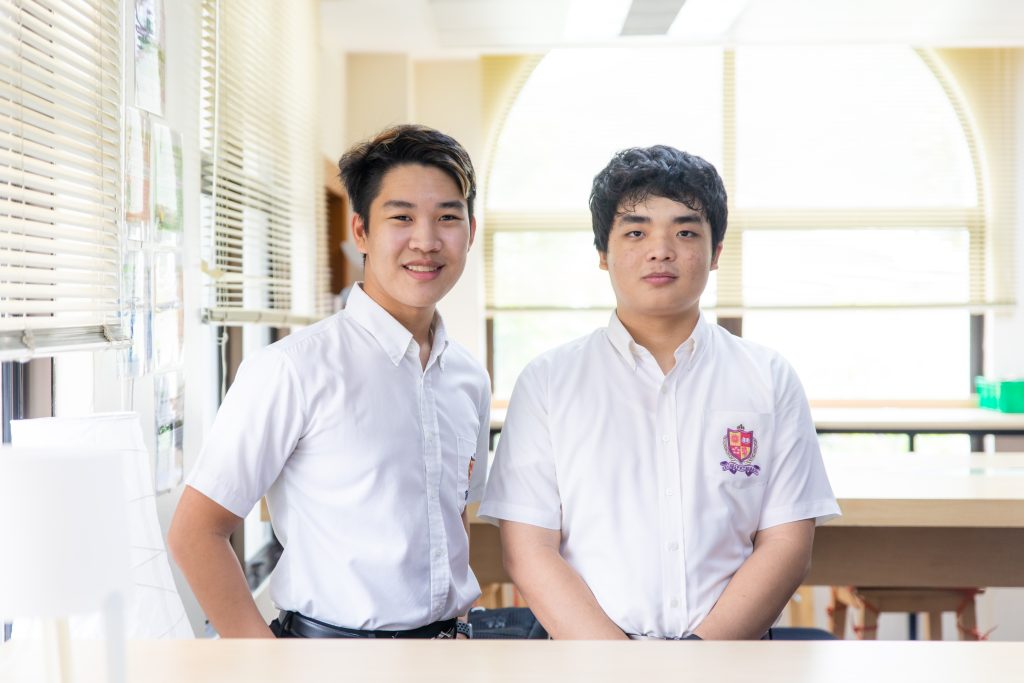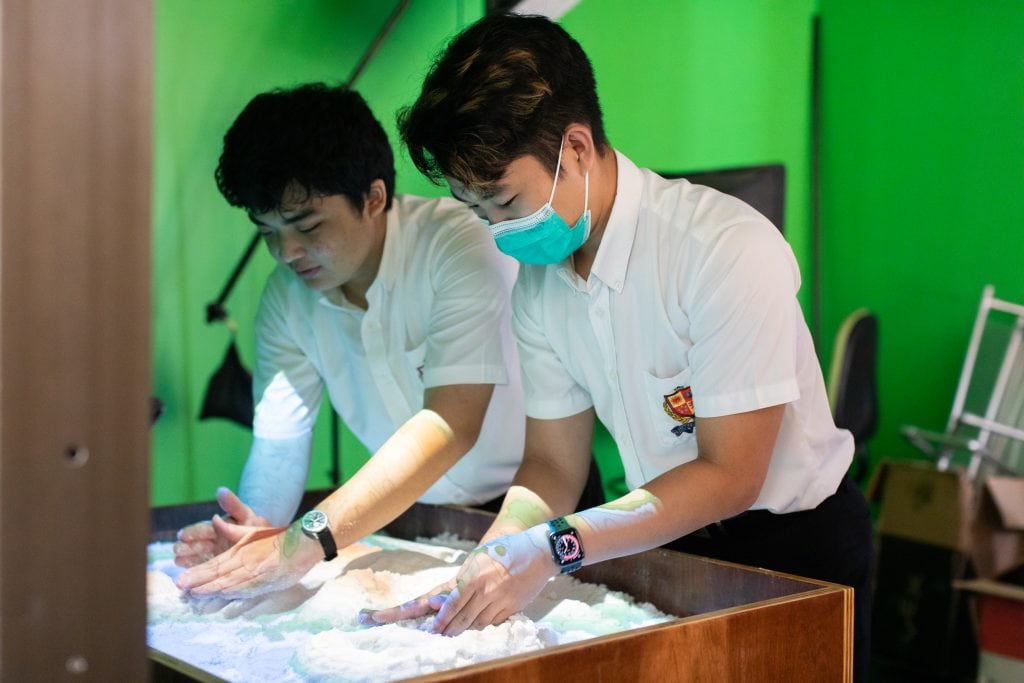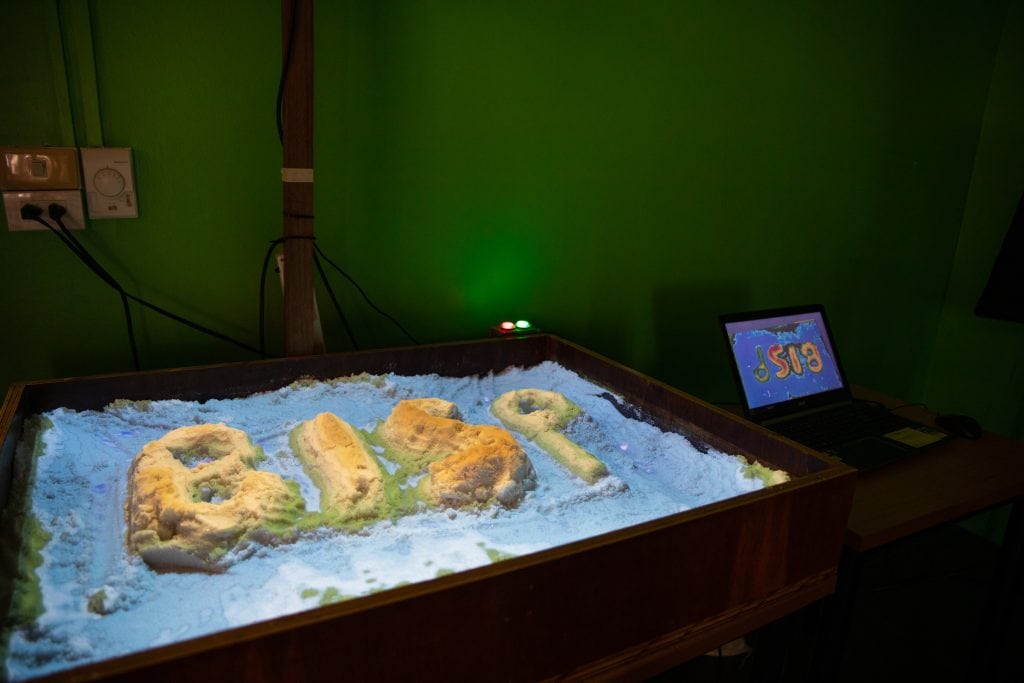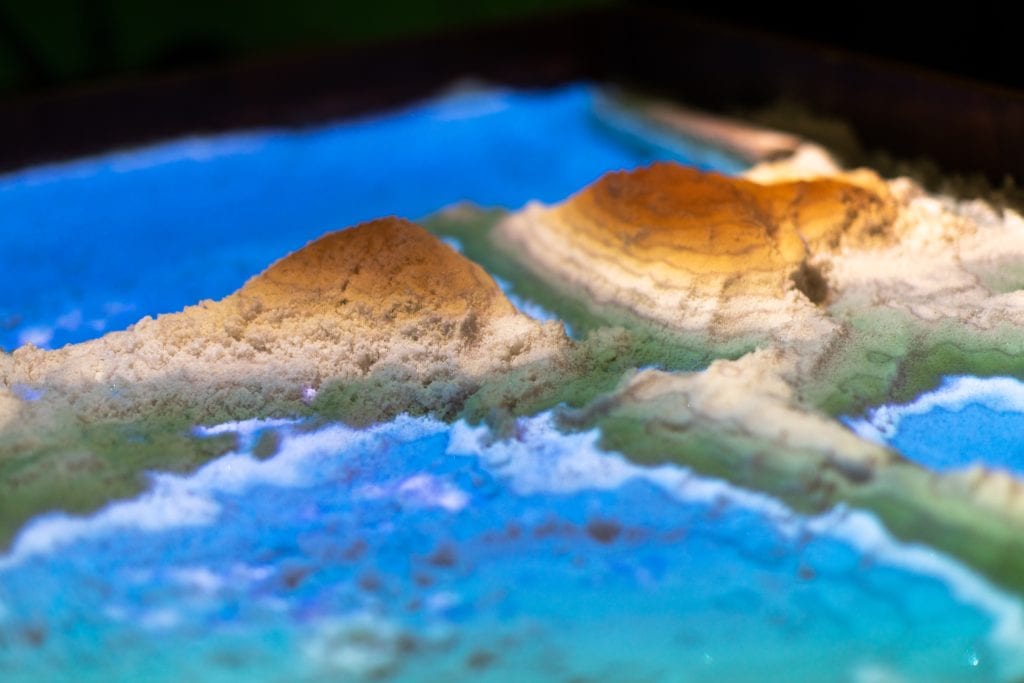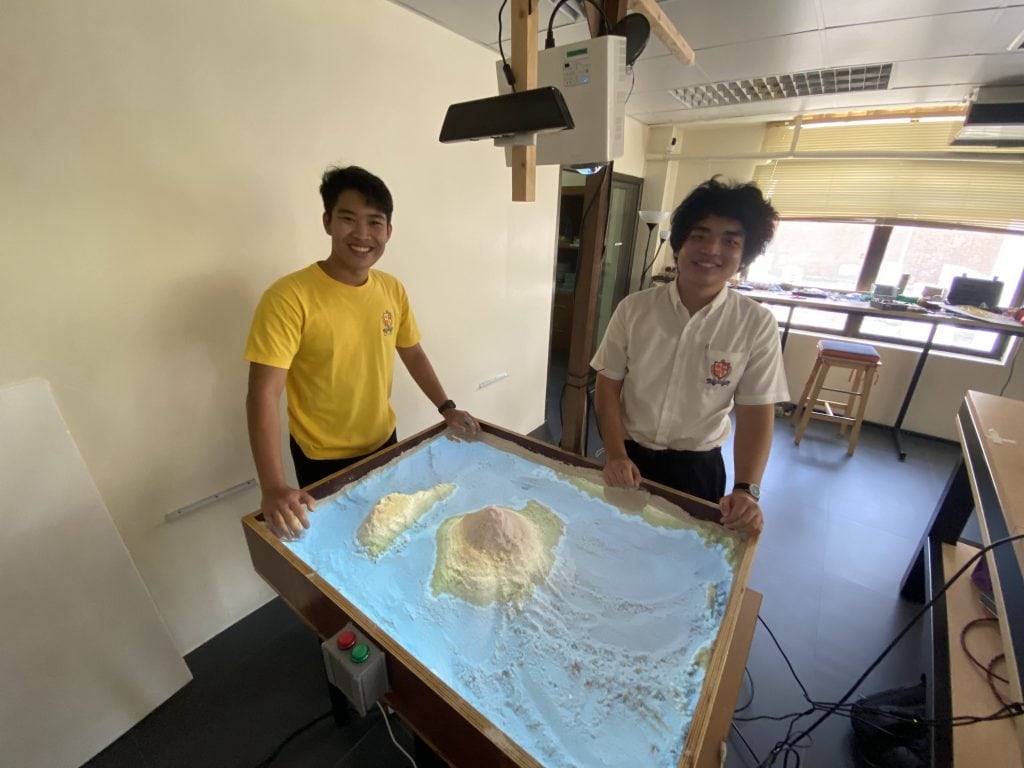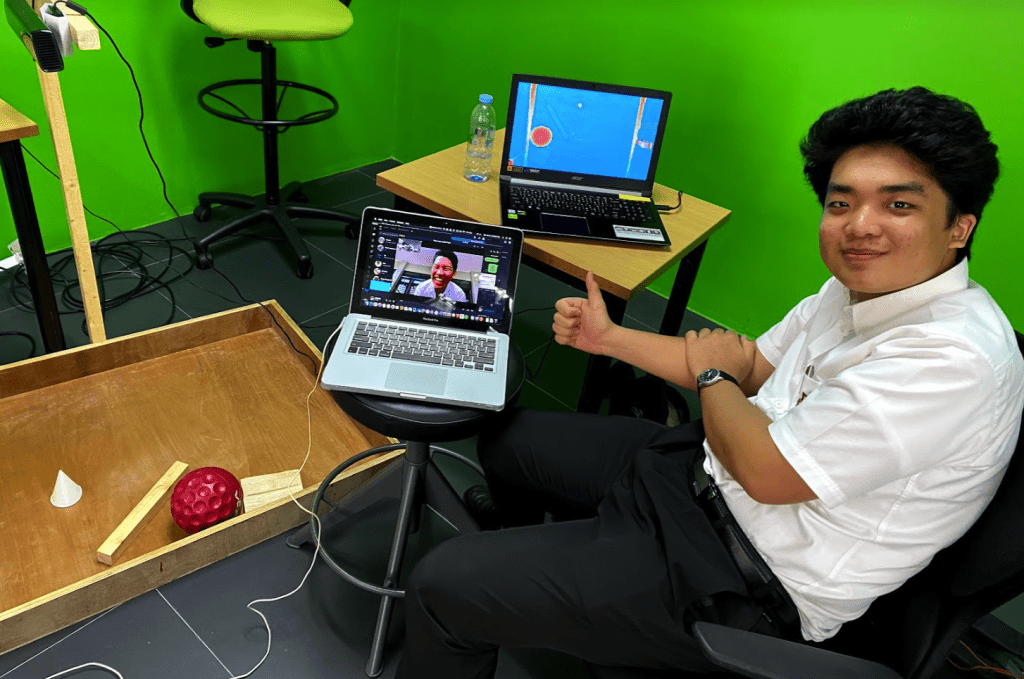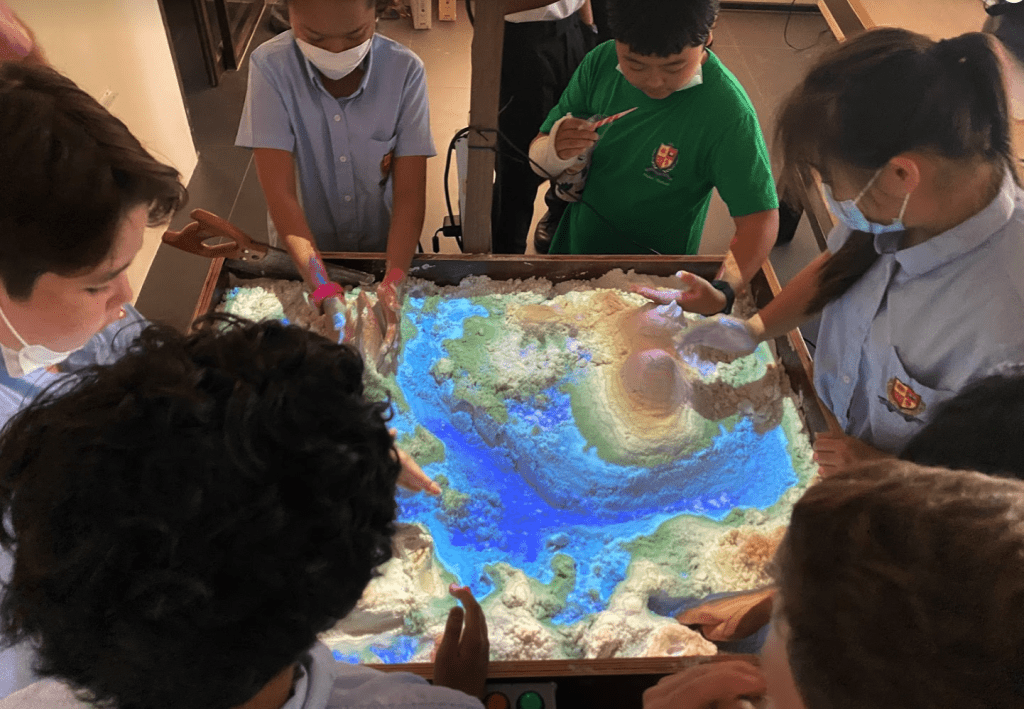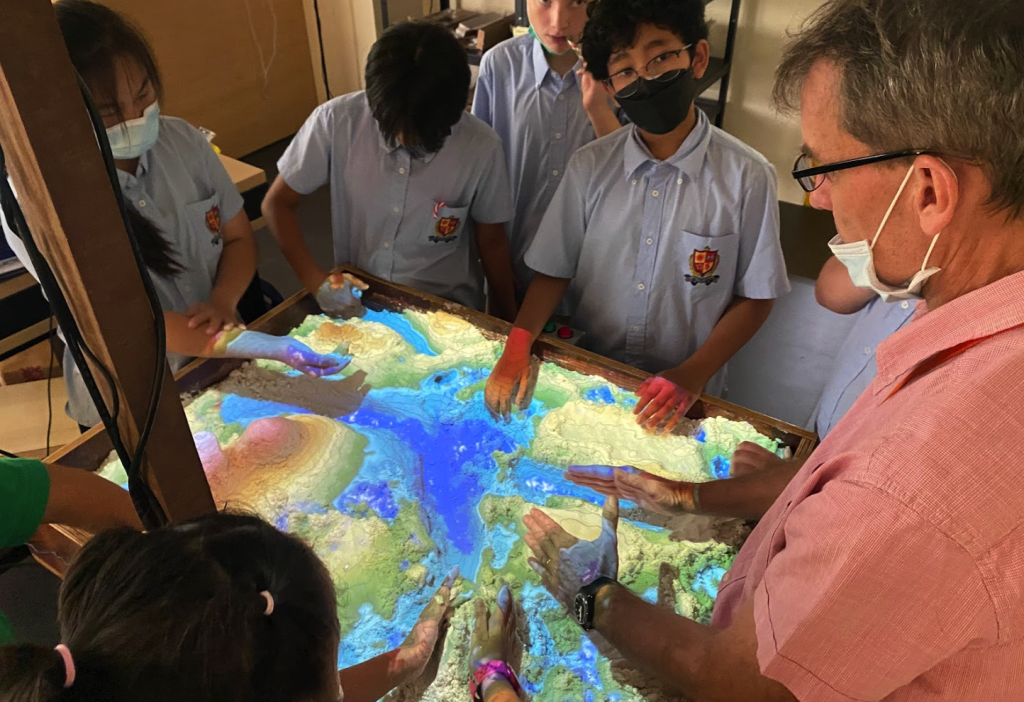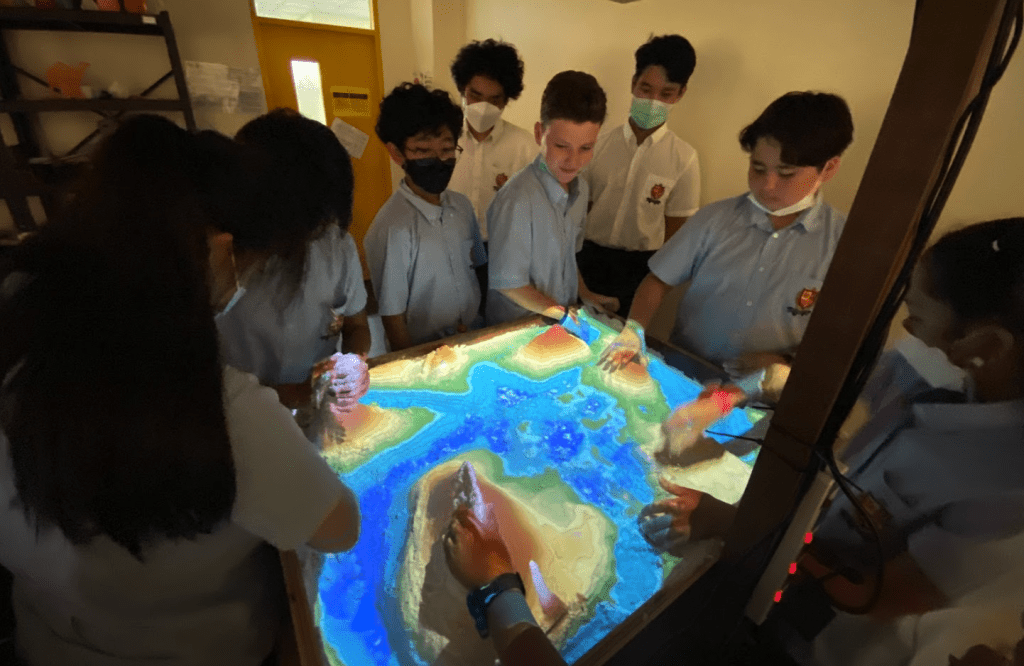 "As a student who is passionate about Computer science, I wanted to work on a project that would help others in some way. After a few hours of research and considering the resources available to me, I decided to work on a project called Augmented Reality (AR) Sandbox."  –Y12 BISP student Min Ha
The AR Sandbox provides a fun and interactive experience for younger students to enjoy and learn about geographic, geologic, and hydrologic concepts such as how to read a topographic map, the meaning of contour lines, watersheds, catchment areas, levees, etc.. BISP Year 12 students Min Ha and Na-Siam – developed the simulation to work using the Xbox Kinect sensor as an input device. From the input readings,  the computer program deciphered the height of the sand and the resulting output was projected in real-time the different colours and contour lines according to the physical form of the sand, which the students mould to their liking. The projection then projects varied shades of blue, green, brown and white onto the sand to portray the expected environment at that level, be it water, vegetated land or snow-capped mountains. Students can also interact with the landscape by placing their hand above specific areas which result in the formation of clouds and rainfall. 
"Through this project, I had the opportunity to learn more about computer science (especially Linux) and how it is used in the real world. I am glad my Sandbox is being used to educate KS3 Geography students about topography."
Min Ha expressed that during the project, the numerous technical issues he encountered served as a great opportunity to sharpen his problem-solving skills. 
Min Ha and Na-Siam set their sights high on this project. By no means an easy feat, Augmented Reality (AR) has, until recent times, only existed in Science Fiction movies.
"Using the skills gained during their Computer Science lessons throughout their time at BISP, Min Ha and Na-Siam created a fully functional product that will benefit students' understanding of Earth Sciences. The boys showed outstanding perseverance and dedication to overcome the many complex challenges they encountered in order to accomplish their goals. I am incredibly proud of their achievements and contribution to the school, as should they be." – Jonathan Clark – Head of Computer Science