The BISP Cruzeiro U18 boys were formidable at the recent Singa Cup in Singapore – racking up an impressive 65 goals in six games and conceding just one to claim the championship title.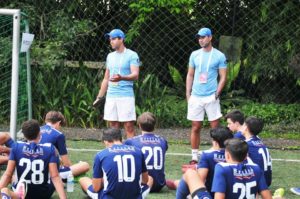 Year 11 student Dov Carino was the tournament's top scorer with 12 goals and BISP's Guilherme De Lima Domingues was named Most Valuable Player.
BISP Cruzeiro played teams from Singapore, Indonesia, Malaysia and India during the tournament held from 6-8 November at The Cage Sports Park. Coach Eder Diniz said the team did well to adapt to the pitch conditions in the final.
"The final match was played under heavy rain but we were very competitive and didn't give any chances to our opponents. Two early goals helped us to take control of the game and manage the time, and one more goal at the beginning of the second half sealed the win."
The BISP Cruzeiro U10 boys also competed in the tournament from 2-3 November, joining a field of 40 U10 teams from neighbouring countries as well as Australia. The side finished fourth in their pool after some close matches and gained some valuable experience against several top academies and clubs. The competition was won by Turf City Singapore.
Both sides will be out in force at today's Soccer 7s tournament. Follow BISP Daily for official tournament photos and visit www.bisp7s.com for schedules and results.
For more information on the BISP Cruzeiro Football Academy, please contact [email protected].