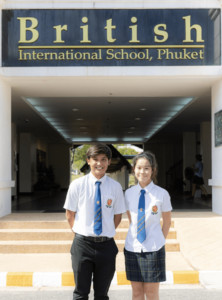 We are delighted to announce that Year 12 students Matti and Yi Won have been appointed as Head Students for 2022 and will be assuming their roles as of Term 3 2022.
The student leadership application process is now open for all other positions and will end on 7th February, after which we will share the results and introduce the new cohort of BISP student leaders for the upcoming academic year.
The combination of Yi Won and Matti's respective talents and interests will be an excellent representation for our students in relation to our holistic mission; Inspire Learning, Nurture Wellbeing and Ignite Passion.
Congratulations to our newly appointed Head Students!
"Congratulations to Yi Won and Matti! The calibre of candidates was extremely high this year – and I would like to congratulate all students who applied for the respective positions".
–Neil Crossland | BISP Secondary School Principal