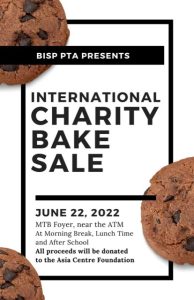 The BISP PTA is organising an International Charity Bake Sale where all proceeds will be donated to the Asia Centre Foundation. The bake sale will take place on  June 22nd in the MTB Foyer at morning break, lunchtime and after school.
The PTA would appreciate contributions to the Charity Bake Sale and would like to ask community members to donate baked goods or packaged snacks that can be sold for between 20 – 50 baht per individual item. If you can provide baked goods or snacks from your home country, that would be great! 
Please note there are no nut products allowed on campus. Gluten free options are welcomed.
Baked goods can be delivered to the CIS office at morning drop off on June 22, 2022. For more information and if you would like to donate goods, please contact Lee via [email protected]