We are very proud to present the work of five Year 13 students. Click here for a video presentation.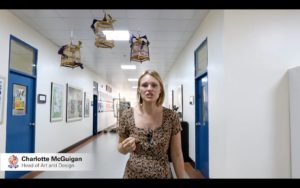 On display are 53 artworks produced by the students. The students have used a range of modern and traditional media in their pieces, ranging from oil painting to 3D software. They have come a long way from the start of the course, developing their skills to produce some fantastic artwork. 
As you can see from the Head of Art & Design Charlotte McGuigan's presentation, within our IB Visual Arts course at British International School, Phuket (BISP), we provide opportunities for our students to work with practicing artists first hand, as well as taking our students on an international art trip each year so they are able to visit and be inspired by artwork in galleries and in places of interest (e.g sculpture parks etc). This year, we visited Singapore. 
"Congratulations class of 2020, I am looking forward to celebrating on our return to school," commented Ms McGuigan.