In December, Year 12 swimmer Arijus Pavlidi competed at the 20th edition of the European Short-Course Swimming Championships in Glasgow, Scotland – his first senior swimming event representing his home country, Lithuania. 
Arijus, 17, now joins a distinguished group of British International School, Phuket swimmers who have represented their countries in a major global swimming event at the highest level.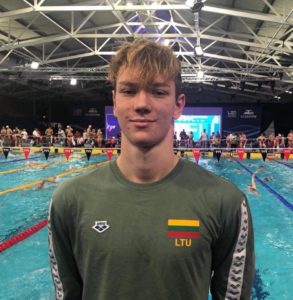 A record 49 nations sent teams to the meet, held from 4-8 December at Glasgow's Tollcross Swimming Centre. Arijus competed in the 200m and 100m backstroke and set lifetime bests and BISP Swimming Academy records in the heats of both events, with times of 1.55.54 and 53.75.
BISP Swimming Academy head coach, Colin Braund, said Arijus should be proud of his maiden performance on the world stage.
"Although Arijus has competed with the best junior swimmers in the world over the last couple of years, this was his first major senior competition," commented Coach Colin.
Prior to the meet, Arijus had the opportunity to join his Lithuanian team mates at an altitude training camp in Spain, alongside world champion and European record holder, Danys Rapsys. "This itself would have given him some great insight into what is required to perform at the highest level," Coach Colin said.
Arijus, who was awarded for his outstanding achievements in swimming at last year's BISP Sports Awards, had only positive things to say about his experience is Glasgow, commenting how it has inspired him to keep pushing forward. 
"When I noticed how much bigger everyone was, at least compared to junior swimmers it was pretty intimidating," said Arijus. "However, it felt like I am finally reaching the adult level, which is exciting.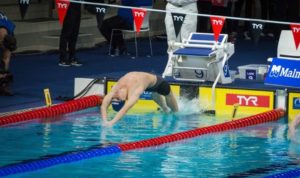 "Because they were faster than me – some of them were world record holders – I was able to watch and examine the things they did differently from me and realise what I need to improve on.
"Apart from the technicalities of swimming itself, I also got a glimpse into the mentality of the top swimmers. Beforehand, I was training with a swimmer who went on to become a two time European Champion at the meet and I was pleasantly surprised at how normal he was. If I met and talked to him in the street I wouldn't be able to tell that he is a European and World Champion. 
"Nevertheless, the mentality kicks in while doing laps at the pool. It's the ability to push forward past your limits and to not give up that distinguishes him from other swimmers," Arijus said.
Arijus' goal for this year is to swim for Lithuania at the Tokyo 2020 Olympic Games in July. "It has always been a dream of mine, and now that it is actually possible, I cannot stop improving," he said.
Also over the December break, Year 8 swimmer Duana Lama claimed two silver and three bronze medals and broke five Nepalese records for her native Nepal at the South Asian Games in Kathmandu. Daniil Pancerevas, Marija Rutkauskaite and Arijus Pavlidi also competed at the Lithuainian Short-Course National Championships in Anyksciai, setting Academy records, personal bests and collecting eight medals combined.
For more information on the BISP Swimming Academy, please email [email protected].