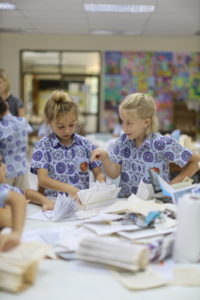 During BISP Eco Week, students aged 8 to 18 worked on creating a collaborative art installation using recycled books.

The books were collected over a period of time from our Primary and Secondary libraries; they had been replaced with new copies. Some of the books were more than 15 years old and would have otherwise been sent to a recycling center. This provided us with the perfect opportunity to create some art that brought our students together.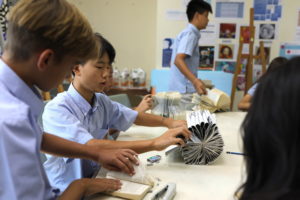 We explored different ways in which to create unique shapes by folding the pages of books in different patterns, as well as rolling tubes with younger students to build a larger structure.
The students very much enjoyed this process and even took books home to fold over the weekend!
We look forward to displaying the work once it has dried in place.