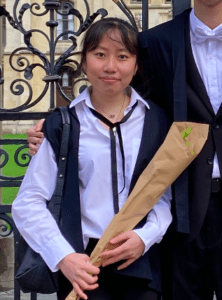 Dr Arthit Scholar and 2020 Head Student Seonju (Pearl) Hong's insatiable curiosity, tenacious work ethic and instinctive leadership made her a role model student at British International School, Phuket. Several of her former teachers even describe her as the most talented and driven student they have ever had the pleasure of teaching. 
Pearl is soon to complete her first year of study towards a BA in Jurisprudence at Oxford. Jurisprudence is slightly different from other universities' Law degrees in that it includes some elements of philosophy. We asked Pearl what life is like studying at one of the UK's top universities.
How you have found university life and your course so far?
While considering the situation with COVID, the circumstances surrounding my university life have obviously not been ideal, but I have come to love it regardless. I'm fortunate in being able to live and study on the university campus, and although opportunities for interactions have so far been limited, those I have had have been very insightful. Life at university is so different from that in IB in that you are essentially grouped with like-minded people who are just as – if not more – passionate about the things that you love, and I like to think of it as a platform where people bounce off each other's ideas. I definitely found it difficult initially in terms of coping with the substantial amount of readings given and the maturity of discussions that tutors expected us to have, but it really does get easier after a while.
How do you feel the IB helped you prepare for the workload?
I think a big part of university academics that I didn't fully comprehend before I actually came to experience it myself is independence. Unlike in traditional school settings where teachers are constantly looking over your academic progress there is absolutely no such pressure here. Students are expected to take charge of their own learning, and in that sense, I really appreciate the independence that IB allowed me to foster in being able to set my own goals and work towards them without external pressures to do so.
Do you have any advice for students when it comes to university and course selection?
Definitely start planning early. You don't necessarily need to know what you're going to study at university, but it's never too early to start thinking about the sorts of subjects you enjoy, and where you want to be in the future. The sooner you start thinking about these things, the more knowledgeable you will be in regards to university applications and courses before applying, and the more conviction you will have in the subject you are studying during your time at university itself. Something that I think should be said more often, though, is that success looks different to everyone. Whether it's your IB end-of-year grades, unit tests, or just your general conduct in school, focus on what you want for yourself.
Do you have any short-term plans?
I honestly cannot see myself leaving education as soon as I finish my undergraduate studies at Oxford. At the current moment, I'm fairly certain that I will go on to study law at the postgraduate level as well, which to me, is a really exciting prospect. While I haven't properly studied all Law modules yet and hence have not yet decided on the area of Law I want to specialise in, I have recently been finding Intellectual Property and Antitrust Laws really interesting, although that could change any time soon.
For more information on British International School, Phuket please contact
[email protected]
.