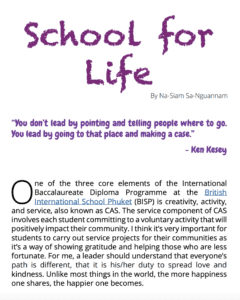 A few weeks ago we featured an article on our blog written by one of our Year 13 IB students, Porpan, in which he shares his experience volunteering at the School for Life orphanage in Phang Nga. 
Porpan's article has now been published in the Leadership issue of Phuket Collegiate Magazine. Well done Porpan! 
You can read Porpan's article on Issuu here.
For more information on British International School, Phuket please contact

[email protected]

.