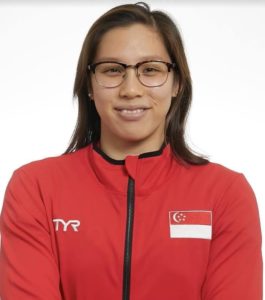 British International School, Phuket Class of 2017 alumna Chantal Liew made history for her country on Wednesday 4 August by becoming the first Singaporean to compete at an Olympic Games in open water swimming.
The 22-year-old former member of the BISP Swim Academy finished 23rd in a field of 25 swimmers in the 10km swim at the Odaiba Marine Park in a time of 2 hours 8 minutes and 17 seconds, four minutes faster than her Olympic qualifying time achieved in Portugal earlier in the year. 
BISP Swim Academy head coach Colin Braund knows the sport of open water swimming well, having been part of Australia's national coaching team from 2011 to 2015 and at the London 2012 Games. Coach Colin said Chantal did a great job considering her limited experience in open water swimming at the international level. 
"Open water swimming is a very strategic sport which takes place in an uncontrolled environment and can take many years to master with not always the fastest swimmers making the podium. Some of the swimmers in Tokyo had more than 10 years experience," Coach Colin said.
BISP would like to once again congratulate Chantal on her success in becoming an Olympian and wish her the very best for her future endeavours. 
For more information on British International School, Phuket please contact
[email protected]