20-year-old British International School, Phuket alumnus Atuhaire Ambala made his Olympic debut in Tokyo on Tuesday, finishing 7th place in the second of nine heats of the men's 100m freestyle in a time of 54:23.
Atu finished outside of the top 16 swimmers who advanced to the next phase but recorded a respectable time for his first Olympic outing, which was just outside his personal best and Ugandan national record of 53.89. You can watch a post-race interview with Atu and footage of his race here on YouTube (credit: Uganda Olympic Committee).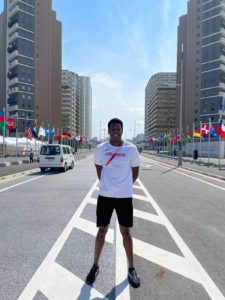 BISP Swim Academy head coach, Colin Braund, said Atu's performance was great considering that his preparation has been less than perfect. "Atu faced some training restraints after a team coach tested positive for covid on entry to Japan three weeks prior to the start of the games. 
"He swam well and I'm very proud of what Atu has achieved. I look forward to following his progress through his college swimming career in the U.S and onto Paris, 2024," Coach Colin said. 
Reflecting after the race, Atu told BISP Media that he enjoyed his moment on the global stage.
"In the call room, I felt the tension in the room. It was like the calm before the storm. I would just sit silently in the call room waiting for what was surely to come. Then came the walkout. Walking out under the lights was surreal. I had watched all the big names do it and I was doing the same thing. I felt honoured to walk out wearing my national colours.
"The race was tough. I knew it was going to be tough, it's easy to get blown away by what "could have been" but I simply dealt with what I had, all the work I had put in during training. Behind the blocks I was happy. Happy enough to enjoy the moment but not too much to get excited. I even remember laughing at how crazy it was that I really was at the Olympics.
"Touching the wall, 100 metres down the line and seeing the Olympic rings right above my face made it seem that all the work I had done was worth it.
"Going forward, I know that with God, there is more that I can do and I'm looking forward to going back into training to come back and race even faster. At the end of the day, I do it all for God and my country," Atu said.
Watch out for BISP alumna Chantal Liew competing for Singapore in the women's 10km open water swim on 4 August at 8am local time in Japan. 
For more information on British International School, Phuket please contact

[email protected]

.