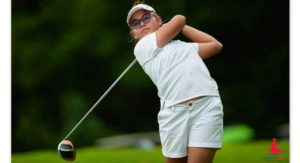 Twelve-year-old British International School, Phuket student, Louise, has certainly made the most of her summer break this year, spending five weeks in the U.S and competing in four junior golf events.
The Year 8 student won two tournaments and earned a top ten finish at the IMG Academy Junior World Championship in Rancho Bernardo, California.
Oliver Bates, Head of the BISP Sea Eagles Golf Academy, said it was great to see our young elite players competing and enjoying their golf in these difficult circumstances.
"I've been very impressed with how Louise has matured and her hard work is definitely paying off on and off the course. The future is very bright for her and all the other BISP golfers. Let's hope we can travel to more events worldwide this year."
You can read all about Louise's successful west coast tour in this week's Phuket News. Congratulations Louise!
For more information on British International School, Phuket please contact

[email protected]

.