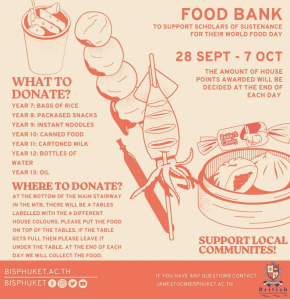 BISP Year 12 students will be hosting a food bank to support local communities. The drive will begin on Thursday, September 29th and finish on Friday, October 7th.
As part of their CAS initiative, BISP students are working with Scholars of Sustenance which is a food distribution foundation that supports beneficiaries across the island as part of their World Food Day Donation Drive. Please join us in donating the food items requested and place them on the tables in the MTB foyer at BISP.
Creativity, activity, service (CAS) is one of the three essential elements that every student must complete as part of the Diploma Programme (DP).
Studied throughout the Diploma Programme, CAS involves students in a range of activities alongside their academic studies.
It is not formally assessed. However, students reflect on their CAS experiences as part of the IBDP, and provide evidence of achieving the seven learning outcomes for CAS.
https://www.ibo.org/programmes/diploma-programme/curriculum/creativity-activity-and-service/