British International School, Phuket (BISP) swimmers Aryan Nehra, Atu Ambala, Daniil Pancerevas and Wern Rui Koay have returned from the recent Tokyo Open with three gold medals, one silver, two bronze and several new records for their school, as well as home countries.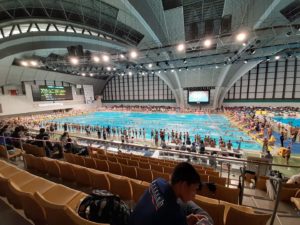 The competition was held over four days at the Tatsumi International Swimming Centre – just opposite the new state of the art Olympic Aquatics Centre.
The BISP athletes competed in age-group events against swimmers from Japan and Europe. Most of the Japanese national team took part, as well as several world record holders and world champions from Europe.
Top achievements include Aryan taking first place in the 15-16-year-old boys 1500m freestyle on day one. Daniil was also a stand-out for BISP, achieving two golds in the 50m and 100m freestyle and breaking several Academy records. His third place in the 100m butterfly earned him a Lithuanian national junior record. Atu also set two Ugandan national records in the 50m butterfly and 50m backstroke.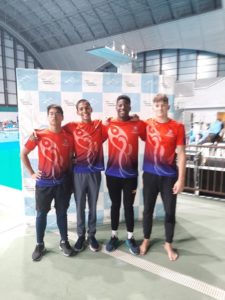 The event was a first for Tokyo and drew swimmers from all over Japan. Colin Braund, head coach of the BISP Swimming Academy, said the event was a good eye-opener for the BISP athletes.
"The boys were really challenged at this meet and although they raced well, it was clear that we have some work to do to improve our technical execution. It's often the small things that can make all the difference in the pool.
"You'd be hard-pressed to find a better regional event than this for our high-performance swimmers, so we hope to make it a regular fixture," said Coach Colin.
The high-performance team will now be looking to share some of their learnings with BISP junior squad members when they compete together at the Feeding Frenzy at Bangkok Patana School this weekend. 
In other swimming news, Year 8 student Duana Lama is currently competing for Nepal at the South Asian Games in Kathmandu, and next week, Year 12 swimmer Arijus Pavlidi will make his debut for the Lithuanian senior team at the European Championships in Glasgow. Daniil and Marija Rutkauskaite will also compete at the Lithuanian short course nationals in mid-December. 
For more information on the BISP Swimming Academy, please contact [email protected].