The festive calendar at British International School, Phuket is full of activities to get you in the Christmas spirit – please come and support our wonderful musicians and actors in the following events: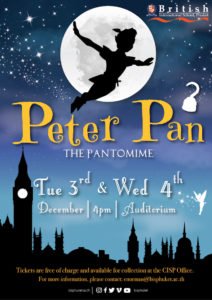 This year's Secondary Pantomime, 'Peter Pan', is taking place in the Auditorium. Tickets are available at the CIS office for performances on Tuesday, December 3rd and Wednesday, December 4th at 4.00pm.
The Christmas Fair, featuring Santa's Grotto and other activities, will take place on Friday, December 6th from 4.30pm to 7pm. The Primary Cantamus Choir and the Concert Band performances will be held from 4.30pm to 5.30pm.
The Primary Production of 'Plastic Pirates' will run on Monday and Tuesday, December 9th and 10th with performances at 1.15pm on both days and Wednesday, December 11th at 5.00pm. Tickets are available at CIS.
The Annual 'Here Comes Christmas' concert featuring our Primary Cantamus Choir, Secondary Singers, Parents Choir and Concert will be held on Tuesday, 10th December at 2.45pm in the MTB Foyer. Please come to sing along with us and enjoy a mince pie or two!
The Primary Christmas Concert will take place on Thursday, December 12th at 1.15pm in the Auditorium.
See you there!