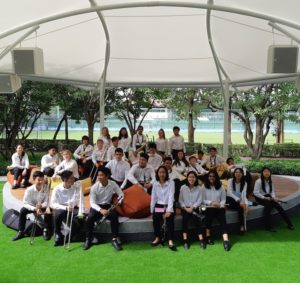 28 members of the BISP Concert Band joined International School students from Chiang Mai, Bangkok, Penang and Kuala Lumpur this weekend to create a massed band of 180 students under the baton of Naoya Takizawa, Assistant Director of Bands at Senzoku Gakuen College of Music, Tokyo.
The concert consisted of, among other numbers, 'Amparita Roca', a beautiful piece written in celebration of the conductor's marriage called 'Arioso' and an entertaining piece using Kitchen implements "Variations on a Kitchen Sink" in which Oak from Year 11 was the cake tin player! As always, the repertoire choice was very demanding but the final performances were really enjoyable.
While our students were younger than those from other participating schools, they performed with confidence and musicianship, but most important of all, they enjoyed each other's company and worked as a team. They were a pleasure to take away for a few days.
Take a look at BISP Music's Twitter feed for videos!
– Mrs. Wilkinson, Head of Performing Arts at BISP.