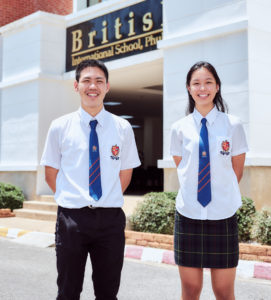 British International School, Phuket's new Head Students have been appointed and are looking forward to assuming their roles as of Term 3 2021. 
Student voice is strong at BISP, and Head Students will lead a team of other student leaders to drive forward the strategic development of the school; co-construct learning and enrichment opportunities; and provide feedback to the Senior Leadership team through consultation.
The process of application was rigorous involving a letter of application, a panel interview with the Senior Leadership team and critique from staff regarding candidate suitability. Thank you to all the students who applied – the calibre and quality of applications were truly outstanding. Congratulations to Tiffany Yip and Wongsathorn Tonkultorn (Oak) for being selected as our Head Students. You can learn more about Tiffany and Oak in their messages below.
Tiffany Yip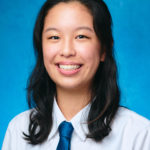 "My name is Tiffany Yip and I am from Singapore. At BISP, I have been able to explore diverse interests and develop my passions over the past eight and a half years. What I have discovered is that I love playing music, especially the piano, clarinet and guitar, and have been participating in the Concert Band for four years and Orchestra and Secondary Choir for three years. Moreover, I enjoy playing basketball and have been on the team since Year 7. Here at BISP, I have been awarded Honour Roll for four consecutive years and achieved 10 A*s in all of my 10 IGCSE subjects. 
"The key qualities that I believe would make a great Head Student are kindness, hard work, and balance. With these qualities, I aim to make a great contribution to the BISP community by giving my 100% effort. What I would like to achieve in this role is to create an engaging and enriching environment in which students can openly share their feelings and opinions with me without any judgement. Further, I am planning to organise events that would lead to more interactions, not just between teachers and students, but also among students across year groups. I look forward to working with the school's Senior Leadership Team and the student body to make a positive impact on our community."
Wongsathorn Tonkultorn (Oak)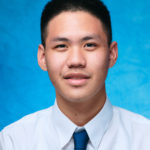 "Hi, my name is Oak. I am a Thai student and have been at BISP for eight years, where I have been improving and diversifying my skill set into different activities offered by the school. I have found that I have a surprising interest in the Performing Arts. I play the drums, trombone and piano, have been involved in Concert Band, Choir, Orchestra and Jazz Band, and have also performed in school productions since Year 7 (you might recognise me as one of the two students who played Buddy in our recent production Elf the Musical). Academically, I achieved nine A*s and two As in my IGCSEs and, and with my love of Maths, have competed in multiple Maths competitions around Asia.
"I hope that, as a Head Student, I can bring my energy and enthusiasm into this role and to the wider school community. My aim as a Head Student is to create a supportive and connected school community that transcends the year group where one can ask for help for anything, whether in academic studies or even mentally. I also want to create an inclusive community in which the voice of the student body can be heard and have an impact on the decisions that I and the Senior Leadership Team make. I look forward to working with the Senior Leadership Team and the school community to leave behind a small legacy within the school."
For more information on British International School, Phuket please contact

[email protected]

.