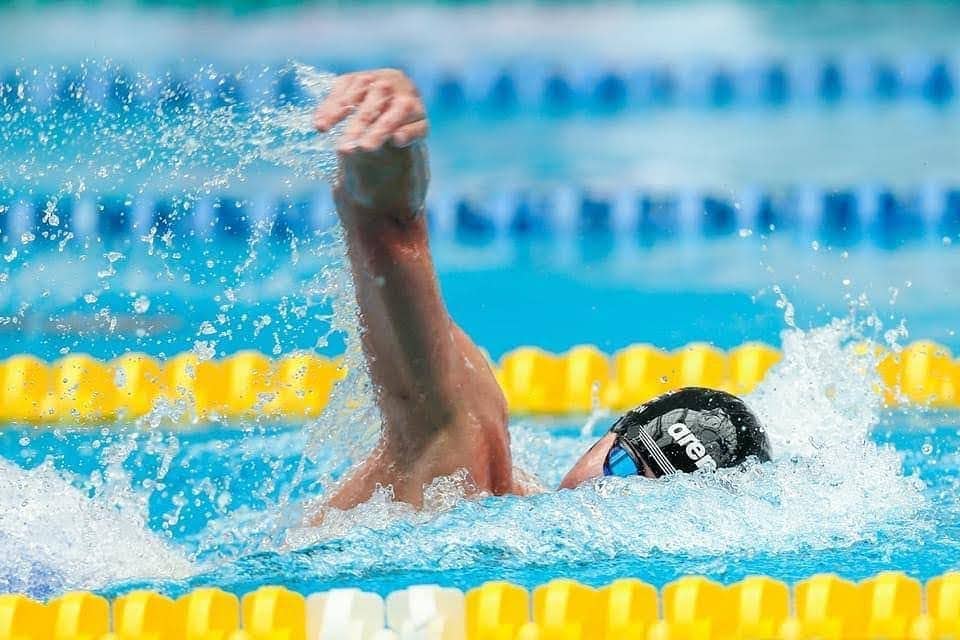 Part two of our interview with former BISP student and High-Performance Swimmer, Est Ravipon.
What are your favorite memories of BISP? 
My favorite memories of BISP are: 
Going to compete overseas with the BISP Flying Fish Team. I went to Hong Kong, Singapore and  Malaysia to race and they were the moments to remember. I had a lot of fun and memories with my teammates and enjoying the atmosphere was the best thing. 

Boarding weekend trips are memorable. I remembered going to the beach, flow house and ATV with a bunch of my friends, all these things cannot be found in any other school. And it made my boarding student life much more fun and amazing.  

Studying a lot of English in Year 10. It might sound boring to some other people but for me I feel like without the help of the school and the teachers I wouldn't have made big progress. I had been studying  English in a Thai school for a lifetime but only a few months in BISP gave me an incredible improvement. 

This cannot be forgotten… The breakfast at the refectory is the best! It is what I looked forward to having every single day after morning training. After I came back to BKK, I asked Mom to cook me the same breakfast as BISP's.  

I enjoyed my time in the library. In year 11, I had a few free periods because I only took five subjects for IGCSE. I had plenty of time to finish up my homework and revise for the upcoming test or even take a  little nap. This free period also gave me time to clear up my mind before the next class because sometimes studying six periods in a row is mentally tiring especially when I have to wake up so early.  

I like PE practical. I got to do many sports like shot put, high jump, volleyball, rounders, basketball,  rugby, tennis and javelin. Some of them I tried for the first time and still enjoyed a lot. And I was so surprised that almost everyone in PE class was so good at several sports.  

Study leave gave me time to prepare for exams. I really like it because in Thai school I only had a few days to prepare for exams.  

The nurse is so nice. I had to use the nurse room quite often because I still had a shoulder injury back then. So, I needed to ask the nurse to arrange a bed for physiotherapy. The nurse is so kind. One of the unexpected incidents which occurred: I had appendicitis after training and I didn't know I had it. The nurse was so smart that she knew my symptoms straight away. She didn't hesitate to contact the people who were in charge to send me to the hospital in time. I was admitted to the emergency room.  The nurse stayed with me the whole time and Mrs. Donovan also came at midnight. I needed to have surgery right away the next morning. At first, they had a problem with the papers because the hospital needed my parent to sign the document but Mrs. Donovan figured things out. I got into the operation room at 6 am and everything went well. The doctor said my appendix broke by the time the surgery was ongoing. Luckily I had been admitted to the hospital in time. I was so thankful of how the nurse and Mrs.  Donovan helped me that night. It was such a remarkable night.  

International Day and Sports Day were very amusing. 
How did you balance the arts, swimming and academics as a student? 
I've got to say that I didn't think I was going into the entertainment industry at that time because back in the day, my life was only full of swimming and studying. As an undergraduate student, nowadays, I have quite a lot of responsibilities in three different duties. And I have goals for each of what I am doing. 
Being an actor is a new thing for me, I have no pressure that I have to achieve certain things. I am just willing to learn something new and I want to enjoy doing it. I got offered the job when the covid-19 outbreak was at the pandemic level.  So, I couldn't go to the university and I have had to take online classes up until now. In 2020, the pool was barely open. I took those times as opportunities to give myself a time to start doing new things like performing. That being said, I neither put aside swimming nor studying. I always attend the class. If I had to work, I would bring my phone or laptop with me. So that at least I can listen to the lecture and not miss out.  For training, coach Simon totally understood me. He saw that it was a great opportunity. That is why he supported me – because we agreed that the competition wouldn't happen soon anyway. I maintained my performance in the pool by attending every session I could, although some of the week it went down to only 3-5 sessions. 
Surprisingly, I still did very well in the Thailand swimming championships in October 2020 and was ranked first in Thailand in that year. For academics, I emphasise so much on the exam because I aimed to receive an honor by the time I graduate. I know it will be hard but it is not impossible.  The most important thing about doing all these is that I have to know how to balance time and know when it is needed to prioritise something first. Time balance is crucial because the equal time allocated to work, school,  swimming, social life (in order to relieve some stress and good company matters) and other activities is what will help me to handle everything well and keep me going in the right direction. Moreover, I really appreciate the support from my family, friends, coach and teammates. Without them I wouldn't have gotten through all the hard work and obstacles along this journey.  
Where can we see you going forward? 
I am currently considering a new role in the new series. Hopefully, I will have something for my fans to watch by next year. Furthermore, I have been training hard and putting lots of effort for the big upcoming competitions such as: SEA Games 2021, Asian Indoor Games 2022, Asian Games 2022, FINA World Swimming Championships 2022. Now that I have qualified for SEA Games and Asian Indoor Games,  my next step is focusing on the rest. Anyone who is interested in seeing my next chapter and lifestyle can kindly follow me on my Instagram: est_rvp. :)) 
What would you say to any BISP students considering a career in the dramatic arts?  
I need to say that it is a fun career but also a lot of responsibility. Working daily seems like a normal and easy routine but you will be in the spotlight. Controlling your emotions and maintaining your image in public is significant. You also need to understand what you aim for in this career. It is important to be kind and friendly to other people because in this career you will meet many new people. You have no idea who is who and someday you might run into someone who will help and offer you an opportunity. Your lifestyle on social media also matters. From what I experience, people with cool and interesting lifestyles are more likely to be hired than the ones who are good-looking but have no lifestyle. Lastly, practicing your speech is necessary.