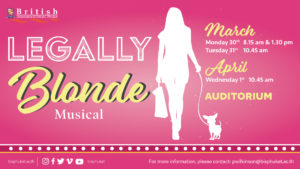 Legally Blonde is the musical version of a famous Hollywood movie. As usual, we have a fantastic live band and phenomenal choreography, acting and singing to take us through the story which challenges stereotyping on the grounds of looks alone. The cast is made up of students from Year 7 to Year 13 and we know their entertaining performances will leave you with a smile on your face for a long time to come! The performances will take place Monday March 30th, (8.15am & 1.30pm), Tuesday March 31st (10.45am) and Wednesday April 1st (10.45am) in the auditorium.
Students and parents are welcome to join in on the entertainment at the mentioned times. For everyone else, we will be livestreaming multiple performances on our brand new live streaming gear! Watch the stream here on our student-led Youtube channel. Please read the notice below, and be sure to tune in to our livestream if you can't make it! Livestream link.
NOTICE:
This event is open to current students and parents only. BISP regrets having to impose this requirement, in the interests of safeguarding the health of all who attend this event.
The Thai Ministry of Education under advisement from the Ministry of Public Health is asking for the quarantine of all persons returning to Thailand from visits to Mainland China, Hong Kong, Macau, Taiwan, South Korea, Singapore, Japan, Italy, Iran, Germany, Spain, France, Sweden, Norway, Switzerland, USA, Netherlands, United Kingdom and Denmark and this is extended to all those who have come into contact with someone who has returned to Thailand from these countries.
Accordingly, we must ask that any person who intends to travel to those countries within a period of 14 days prior to the event date to PLEASE NOT ATTEND this event.