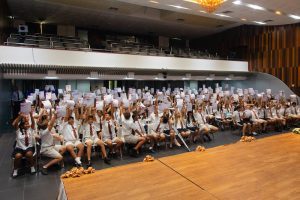 Drama is a flourishing department here at British International School, Phuket and we are passionate about students engaging with the subject during lessons and as an after school activity. This year, we are to be commended on the fantastic set of LAMDA (London Academy of Music & Dramatic Art) exam results. In the first year, we saw Year 10 IGCSE and Year 12 IB students taking Acting exams, a great opportunity to hone their performance skills and celebrate an amazing set of results. All KS3 students undertake an exam in Speaking in Public, one of LAMDA's Communication exams. The results were excellent and one Year 8 student even reached the 100% mark.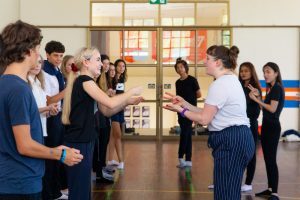 Moreover, the department has worked alongside Splendid Theatre Company. Based in the UK, they travelled to Phuket to deliver a performance of their latest work, Orestria, and a workshop for our students. We also welcomed Performance Exchange and their performance of Sherlock Holmes to the Year 8 students.
World Theatre Week took place in March with performances from all year groups in both the Drama Studio and the MTB. The Year 12 Physical Theatre piece allowed the audience to move around the performance space to experience the work from different angles and the Year 10 movement piece entitled 'The Cult' was inspired by Frantic Assembly. The Year 7's offered snippets from their Matilda the Musical work and the Year 8's covered silent movies. This was a great opportunity for students to showcase their work and we were pleased with the reactions from the audience.
Snow White was the pantomime of choice for this year and received rave reviews from the audiences. The students worked exceptionally hard to make the performances fun and entertaining and included well known songs and dances as well as jokes and audience participation. We have also started working on a KS3 boys performance of Lord of the Flies, which will be showcased early next year.
During KS3 lessons, we have focused on devising and looking at different theatre companies that use devising techniques such as Jacque Lecoq's 7 Levels of Tension. KS4 have been developing their performance skills with work stemmed from well known UK-based company Frantic Assembly.
With plenty of exciting opportunities planned for next year, the department is looking to further develop Drama within the whole school and into the community. Drama continues to be a subject that allows students to express themselves in a safe environment, develop communication skills, a willingness to work cooperatively as well as independently and aide the development of confidence levels.