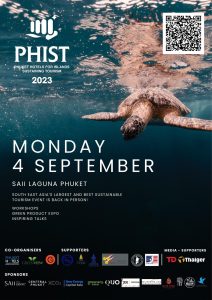 Phuket Hotels Association (PHA) is organising a full-day event including workshops, exhibitions and activities on Monday 4th September. As a partner organisation of BISP, PHA is extending the invitation to the BISP community to attend this exciting event. 
Admission to the event is FREE but advance registration is required; REGISTER HERE
PHIST 2023 is jointly organised by the Phuket Hotels Association, Greenview and C9 Hotelworks. The event venue will be SAii Laguna Phuket.
For more information visit: https://phist.phukethotelsassociation.com/
ABOUT PHIST 2023
This year PHIST is diverse set of highly focused, practical workshops include the circular sustainable economy, green hotel loans and start-up funds, glamping, inside farm-to-table restaurants, environmental hospitality design, data, and measurement, greentech innovation, marketing sustainable hotels and many, many more. The expanded exhibition showcase will allow attendees to source green tourism products and services and hear the newest and latest ideas.
PHIST 2023 is a full-day event that encourages you to expand your business network with special sessions to set up and connect participants. A new addition to the event is a coworking community area and special food trucks and marketplace.
This year PHIST is set to lead the mission of tourism islands creating sustainable growth, including hospitality leaders from Bali, Maldives, Singapore, Philippines, and Vietnam to help share best practices, challenges, and lessons learned from hotels and hotel associations. With a practical regional focus, the event will attract a diverse audience of hotel groups, individual owners and developers, operators, educators, and product exhibitors to benefit Phuket's hoteliers and wider community.
The conference day will feature an exhibition area, showcasing sustainability products, services, and offer attendees a mix of topical, functional and data trends workshops, covering topics and roles including F&B, engineering, destination collaboration, Net zero Roadmap, and trends on sustainability.