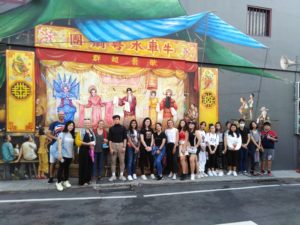 Recently, 15 students departed Phuket for the Singapore Art Trip. After arriving safely, they started out with a tour of the Jewel at Changi Airport, a retail complex and garden that holds the largest indoor waterfall named the Rain Vortex. This provided our art students with excellent photo opportunities to document its unique structure. After checking in, they visited China Town and the surrounding areas to view street art murals. A hired guide shared his knowledge of the city and historical facts about the architecture. An interesting mix of Western and Asian culture, perfect for urban sketching.
After breakfast the next day, the young travellers walked along the river to the Singapore Tyler Print Institute. Currently on show are the works of Pinaree Sanpitak, an established Thai conceptual artist. Students enjoyed learning about specialist processes and printmaking techniques. During a guided tour to the lower floors of the building, they were shown how lithography, screen printing, Intaglio and relief printmakers produce their work.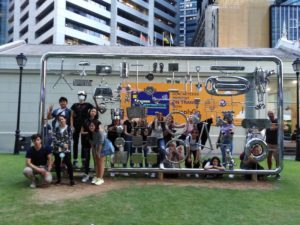 Next stop was the National Gallery Singapore. Students spent time drawing, photographing and gathering resources to enrich their work back in the classroom at BISP. The gallery holds the work of prominent Asian and Western artists. From there, they made their way to Marina Bay Sands, viewing sculptures of Salvador Dali, Tony Cragg, Fernando Botero and Singapore sculptor Chong Fah Cheong along the way.
On the third day, students were treated to a special presentation and meeting with Takuya Takei, the Asia Regional Director and Artist of Team Labs, the group behind the Future World Exhibition at the ArtScience Museum. Takuya talked through the programming and the artistic vision of Team Labs Future World Project prior to the students visit. This gave them an understanding of the technology and concept behind their work. He also shared images and videos of their upcoming projects.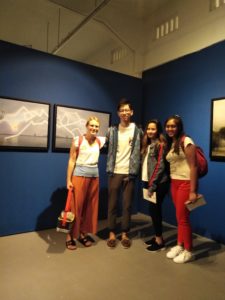 After walking through the exhibition, the students became the first few members of the public lucky enough to see the
Disney: Magic of Animation
exhibition at the museum. The exhibition holds over 500 original drawings dating back to the 1940's that show mark-ups and construction lines made by the artists to give an understanding of how the well-known Disney characters came to be. It also showcased the animators' original sketchbooks and stills with the evolution of the character, various viewpoints and settings from the films.
The students then moved on to Gillman Barracks Art Space, where they met Singaporean Artist Loi Cai Xiang, an oil painter who has just opened his most recent solo exhibition Relative Homeostasis. They were interested in the process & techniques of his highly skilful and detailed paintings. Also on show was the work of famous photographer David Lachapelle. The Gillman Barracks is a former military installation dating back to 1936. It is now home to a number of local and international galleries.
Finally, after a full day of recording their ideas, our students are looking forward to developing their sketches and artwork back in the classroom.