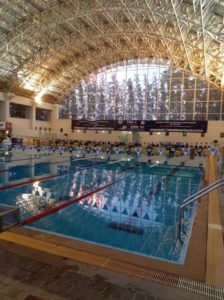 A strong combined effort by 18 High-Performance swimmers saw BISP Flying Fish finish third overall at the Thailand Short Course Swimming Championships over the weekend, taking home 51 medals and smashing six Academy records and six national records
The Championships took place from 25-27 October at Assumption University in Bangkok. Over the three-day competition, BISP gathered a medal haul of 19 gold, 20 silver and 12 bronze.
As well as multiple Academy records, Indian, Ugandan and Nepalese national records were also broken by three BISP students. Year 12 swimmer, Aryan, broke his Indian national record in the 400 Individual Medley and Year 13 swimmer, Atu, was a standout for BISP, breaking four Ugandan national records in the 50m backstroke, 50m and 100m butterfly and 100m freestyle. Thirteen-year-old Year 8 student, Duana, broke her own Nepalese national record in the girls 200m backstroke.
The youngest squad member, 12-year-old Year 8 student Lauchie, made his debut for the BISP High-Performance team at the Championships and performed strongly, advancing to five finals and achieving five personal best times.
BISP Swimming Academy head coach, Colin Braund, said: "It was an exciting start to the season with so many personal best times and records produced after some heavy training. We can now get back to some good quality work in preparation for the start of 2020 and our major Long Course National Championships."
For more information on the BISP Swimming Academy, please contact [email protected].