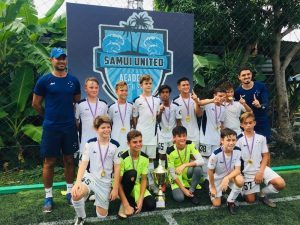 The British International School, Phuket (BISP) U12 footballers claimed a convincing victory at the Samui Friendly Cup recently, beating Samui United Academy in the final 3-0.
The 7-aside tournament, hosted by finalists Samui United Academy, featured eight academy teams from around the region.
BISP looked strong during pool play, comfortably winning all three matches. However, the side was challenged in its semi-final, which ended 1-1 after 24 minutes of play. In a closely fought penalty shootout, it was Zander who made the winning save, blocking a powerful kick into the right corner.
It was a tense start to the final, but BISP soon found its confidence and 'Cruzeiro form'. The team showed perseverance on defense and precision on the offense to claim the win 3-0.
BISP Cruzeiro Football Academy assistant coach, Raphael Brito e Sousa, said: "Overall the tournament was a good experience for the players and they did very well to take home the trophy. Experiences like these will help prepare the players and the team as a whole for bigger challenges in the future."
For more information on the BISP Cruzeiro Football Academy, please contact Jonathas Candido.