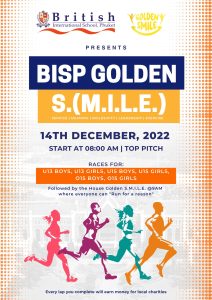 The renowned BISP 'Golden Mile' will this year be supplemented by the Golden (S)MILE, which will take place on ​​Wednesday 14th December 2022. The event has been created to provide the whole BISP community (students, staff, parents, families) with an opportunity to participate in a well-being event which promotes: 
S – SERVICE – through action
M – MEANING – running for a reason.
I – INCLUSIVITY – engagement at an appropriate level.
L – LEADERSHIP – student-led through organisation and participation
E – EXERCISE – a showcase for physical literacy and health
The Golden (S)MILE is designed to accommodate a competitive race available to all students and a compulsory participatory, and inclusive fun event. As always, the Golden Mile competition provides a 'season-end' opportunity for High Performance (HP) students and others to compete against each other, whereas the Golden S.M.I.L.E. will provide an opportunity for students to represent their Houses in a fun and inclusive environment, in which they have the chance to earn House Points and cash for our BISP Service Projects.
BISP PTA Pledge Funded Race
The Golden S.M.I.L.E. has been 'Pledge Funded' by our PTA who have agreed to donate 1 Baht for every Golden S.M.I.L.E. lap completed. The pledged funding will go directly towards four current service projects already supported by BISP. They are:
Scholars of sustenance

SOS Children's Village

Phuket has been good to us

Phuket Sunshine Village
Our sincere thanks to the PTA for this wonderful gesture and to everyone who joins the event to make a difference.
So, dust your trainers off and get ready to run for a reason!