The Cambodia project is now in its third year, with BISP's Year 12 International Baccalaureate (IB) Creativity, Activity, Service (CAS) students leading efforts in fundraising and delivering an educational experience to children in rural areas of Cambodia. Twenty students, accompanied by Khun Marissa and Mr Donovan, undertook the challenge during Trips Week this year.
This initiative was originally inspired by former BISP House Parent Mr Evans, who has a plethora of experience within the charity sector. His vision led to a collaboration with BISP's Extended Curriculum Coordinator, Mr Berman, to launch the project.
This project involves raising money to facilitate teaching and material provision in the school. Mr Evans's efforts have already helped fund a classroom which is in daily use, bringing education and literacy development to children who otherwise wouldn't be able to receive it.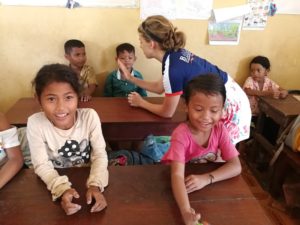 The project has become a cultural bonding experience. Not only do students raise money and awareness; they also draw much needed attention to the needs of underprivileged children. Students plan and deliver a series of lessons under the guidance of BISP teachers. The trip also looks to educate BISP students about Cambodian culture and way of life. It features visits to museums, both historical and artistic, a stop at the world famous Angkor Wat temples and a boat ride to the floating village.
This experience is truly enlightening for all involved; the Cambodian children welcome the arrival of the international party from Phuket and BISP students see some realities of the world first hand. Mr Evans, in conjunction with BISP, is looking to increase awareness of the project and extends his support to the small school. In the future, he plans to bring technological learning to the school in the form of iPads and other similar devices.
One thing is certain: when passions are raised, BISP students rally together and make great things happen, to the benefit of everyone involved.