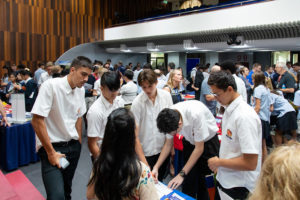 The Fourth Annual Phuket University Fair welcomed representatives of 98 universities from 20 countries to British International School, Phuket (BISP) on Monday September 23rd. BISP students and parents participated in workshops and presentations given by the representatives and also talked to them one-on-one. Almost 200 students from other schools attended the event.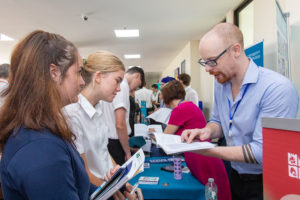 Prior to the fair, students in Year 10 – 13 engaged in workshops designed to develop skills for asking questions and increasing knowledge students have about the admissions processes in some countries. Year 13's took part in a workshop which allowed them to look into universities without any knowledge of rankings and locations, it turned out to be an interactive & entertaining learning experience for them. The Year 12's worked with the representatives to review mock applications using the usual criteria universities apply to accept students into their programmes.
Students, teachers, parents and admission officers gave positive feedback of the event and are already looking forward to next year's fair.