We are proud to present the BISP Sports Award Secondary School recipients for the 2022/23 academic year:
Under 13 BISP Sportswoman of the Year 2022/23 – Siera
Siera has great football and swimming skills which, combined with her exemplary effort, commitment, and willingness to learn will pave the way for her to succeed at the highest level. Siera's attitude helps create a great training atmosphere for the whole group.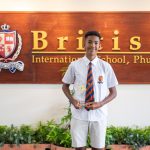 Under 13 BISP Sportsman of the Year 2022/23 – Oscar
Sportsman of the Year is a well-deserved award for Oscar. He led the team in many competitions through good and bad times as a captain. He is always quick to show his exemplary sportsmanship, by always supporting his teammates.  He is a positive role model who continually shows an excellent work ethic in training and competition.
Under 15 BISP Sportsman of the Year 2022/23 – Marius
Marius was a role model throughout 2022/23, showing great composure, and a hard-working attitude, while always being focused on his goals ahead. He continually supports his teammates, coaches and has helped to create a positive and competitive environment with a professional mentality. 
U15 BISP Sportswoman of the Year 2022/23 – Tarita
We are fortunate to have many outstanding female athletes in this category. However, our winner stands out for many reasons. Tarita has a wonderful attitude and can always be relied upon to show up. Tarita is at her best when the going gets a little tough. She rises to the occasion and is able to shine when the pressure is on. Tarita's performances in tennis have been of an exceptional level this year.  She is a nationally ranked player who has played for her country at several competitions and has been invited to Europe to perform on clay courts this summer. 
Senior BISP Sportswoman of the Year 2022/23 – Chie
Chie arrived at BISP as one of our most promising prospects and has quickly responded to our high expectations. She became one of the key members responsible for bringing the girls' programme to another level by helping the team to get outstanding results in the past 4 years. Additionally, Chie is highly involved in coaching the younger students at school. 
Senior BISP Sportsman of the Year 2022/23 – Artur
Artur has brought to his sport a combination of unique qualities such as physical talent, intelligence on the pitch, and the discipline and motivation to train every day at a high intensity. He has a calming presence on the pitch and has represented BISP for many years in tournaments and competitions. Artur always plays with pride, and has certainly helped to further elevate the reputation of the football programme.
BISP Sportsmanship of the Year 2022/23 – Dante
Dante is an inspiration and a role model for our younger students. He has an extremely polite and calm demeanour, and as a consequence is a great role model for other students. Dante is a natural leader at our school, not just for his successes on the pitch, but also for his positive attitude and dedicated approach to his studies in general.
Sportsmanship Award 2022/23 – Ember
Sportsmanship is one of our key values at BISP, and Ember epitomises this value in action – respecting her opponents, her coaches, and her teammates. Ember always demonstrates a positive attitude as well as a tremendous amount of support for teammates. Ember has sacrificed personal results for the wellbeing of teammates. It would be difficult to find another individual who demonstrates a better show of respect and sportsmanship than this young student.