Congratulations to our BISP Sea Eagles swimmers past and present who have been competing at the World Junior Championships in Peru.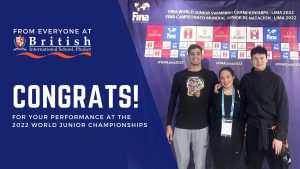 Current Y11 Swimmer Duana Lama representing Nepal finished 23rd in the 100m breastroke and 30th in the 50m breastroke. BISP Alumni Aryan Nehra from India finished 9th in the 800 free , 12th in the 1500 free, 13th in the 400 free and 18th in the 400 IM. BISP Alumni Jayden Tan flying the flag for Malaysia finishing 15th in the 400 IM, 16th in the 200 IM and 18th in the 400 freestyle.
It is great to be able to celebrate the success of these young swimmers with them and their respective nations as they compete on the international stage. These results are all creditable swims competing at such a high level.
BISP is proud to deliver an exceptional school swimming program, where students of all levels receive expert, professional swim coaching, combined with an international education of the highest quality. Learn more about swimming at BISP.