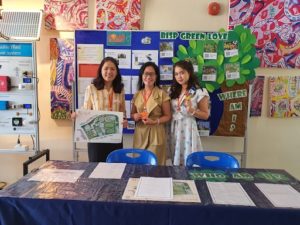 Between the 2-6 of March 2020, BISP held its third annual ECO week! The theme for this year's event was "Reduction". This aimed to promote awareness on the many ways our lives can impact the environment and to educate on how we can reduce our impact. 'Meat-Free Monday' started the week and students were encouraged to reduce their carbon footprint by choosing vegetarian options. Not only is this good for the environment but also for students' health. This is a popular initiative run by many organisations across the globe.
Secondary students had many discussion points throughout the week with a popular session on Wednesday in which they looked at E-Waste and why it is not often managed sustainably. Students showed great interest in the impact their devices can have on resource exploitation and were given ways they can make smart, and more "eco-friendly", consumer choices.
Thursday saw the introduction of "Carbon Mindful Day", during which classrooms saw the elimination of an energy source every hour. This showed teachers and students just how much energy we use throughout the school day. Students were keen to take these methods of reduction home.
Throughout the week, in Primary, we saw real community spirit. Our Parents committee set up a stand to show students how to make "Eco-Art". Students loved the activity and we are grateful for our parents giving up their time to educate our students. Along with this, our maintenance staff and Mr. Berman ran classes to educate the students on how our new Solar panels work. We are delighted to say that they are currently covering 15% of our powering needs, and we look to further develop this into the future.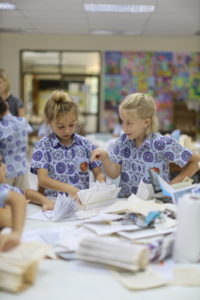 One of the biggest highlights of this year was the introduction of the "BISP Green Love" project. Our CIS team has been working hard to create a QR key and map to educate the community on different plants and trees around the school. Please keep a lookout for these signs as you walk around our beautiful grounds.
The Art Department ran another fantastic initiative to promote reduction. Primary and Secondary students took part in creating collaborative sculptures made of folded paper. Students spent their art classes creatively folding paper from old unwanted library books. These structures were then compiled to create sculpture boxes.
As we look into the foreseeable future, we look forward to our eco committee continuing to help reduce BISP's carbon footprint.
With extraordinarily well thought out events throughout the week, the BISP ECO club put making the world a better and happier place to live our top priority.
For more information on British International School, Phuket, please visit www.bisphuket.ac.th or contact [email protected].