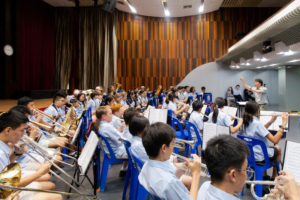 Last month, the BISP Concert Band participated in a workshop led by the Mahidol University Young Artists Programme on Friday 27th September, while Andy Gleadhill led workshops on World Music Day on Monday 30th September.
The BISP Concert Band was really fortunate to be offered a day of workshops by the Mahidol University Young Artists Programme. Twelve teachers and a conductor travelled to Phuket to deliver a morning of individual instrumental workshops followed by an afternoon working with the group's conductor, Khun Alongkorn. The day ended with a short performance of three pieces students had only worked on during the workshops but nevertheless, they delivered wonderful performances. Everyone was also treated to performances by the faculty staff – one of which was an avant-garde piece for rock saxophone!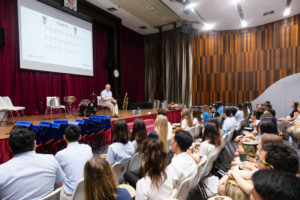 On Monday, students from UWC, Headstart and KIS joined BISP IGCSE and IB students for a day of World Music workshops with Andy Gleadhill. Andy has performed as a percussionist with most of the world's top solo artists and is a talented educator. He gave the students insight into music from the Caribbean and the Arabic world, leading them in percussion-based performances and some melodic improvisation. A good time was had with young musicians from across the island.