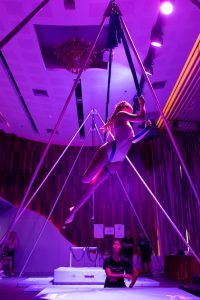 The Mid Air Circus Arts' (MACA) annual showcase is a spectacular display of flexibility, strength, coordination, courage, and artistic expression – arranged beautifully to the iconic soundtrack of the blockbuster hit, The Greatest Showman.
Thirty-two students from Year 1 to Year 11 took to the stage of the BISP auditorium on Saturday to perform an opening dance sequence followed by 10 unique acts. Students performed solo, in pairs, and as quads on the silks, hammock, trapeze, cube, hoop, and sphere. It was the first of two end-of-year performances – the second taking place today (Monday 10 June) at 4pm. Tickets cost 200 baht and can be purchased at the door.
The aerial acrobatics show took six months of regular rehearsing to piece together.
Samantha Lambert, Academy Manager of MACA's Aerial and Flying Trapeze programme, directed the show. "It's phenomenal the progress our athletes have made this year and it's been a real honour to be able to work with them to create this show," she said.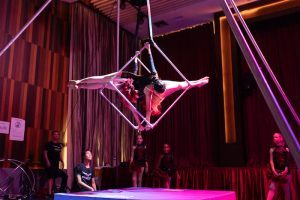 "We would like to thank the parents of our students for their unfaltering and tireless support for our shows. Without them it would not be anything close to being possible."
MACA has approximately 200 students involved in its three programmes – flying trapeze, aerial and gymnastics. For more information, please email Samantha Lambert – [email protected].