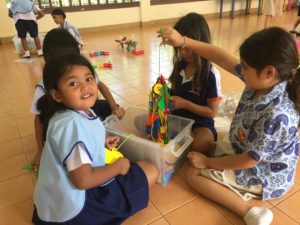 Since the beginning of the school year, 97 Year 3 and 4 students have spent several hours a month visiting children at the SOS Children's Village in Koh Kaew, with many saying the experience left them feeling "proud" and pleased to meet "new friends".
The SOS Children's Village is just 1km from British International School, Phuket (BISP) and was set up in the aftermath of the 2004 tsunami. It is one of several orphanages established after more than 1,200 children in Thailand lost their parents.

Today the Village provides care for children who can no longer live with their parents and also operates a free kindergarten for those in need. About 60 children aged three to six attend the kindergarten, many of whom live permanently at the Village.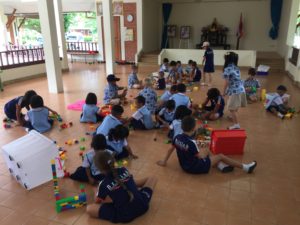 Year 3 and 4 BISP students undertake three one-hour visits to the kindergarten throughout the school year as part of the school's community outreach programme. 
The students take resources and spend time playing with the children: learning each other's names, building with construction toys, role-playing, singing songs and developing their communication and English skills.
Year 3 student, Dea, said she befriended a girl called Sushi. "She was so excited to see me she would always climb on my back. I helped her learn the colours of the rainbow. She knows pink and purple," Dea said.
When asked how it made them feel to build relationships with the children, Anna, Dea and Lash, Year 3, said they felt "happy" and "proud". 
Year 4 student Kate said she enjoyed singing nursery rhymes with a group of three-year-olds, and Samhita, Year 4, felt so passionate about the programme she decided to donate some of her toys. "The children were so happy," she said. They were joyful and spirited when we played and sang with them."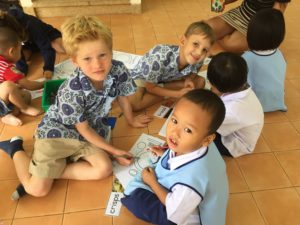 Year 3 teacher Paul Jackson said many students who have completed their hours of service have asked to return to the Village to further strengthen their connections.
"It's a privilege to be at a school that emphasizes active service within the local community," said Mr Jackson. "The symbiotic partnership means that we can all grow together. 
"The magical consequence of caring about the wellbeing of others is that our own wellbeing is enriched. My hope is that this project inspires, within our children, a life-long dedication to supporting communities wherever and whenever it is needed."

Children from SOS Children's Village also visit the BISP campus twice weekly to work with our Year 12 and 13 IB CAS students in the Early Years teaching space. For more information on BISP's community outreach programmes, please visit our Outreach page on our website.