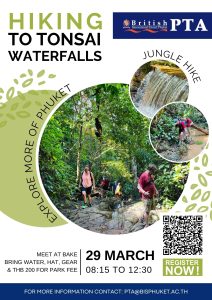 The BISP PTA is planning a 2-hour hike through the jungle to TonSai Waterfall on Wednesday 29th March.  
Tonsai Waterfall is set in one of Phuket's oldest rainforests and hosts many species of plants and animals. For planning purposes, parents who wish to take part can REGISTER HERE and meet at 08:15  AM at Bake. School buses will be leaving Gate 1 at 08:30 AM (those who want to drive can plan to meet at the park gate at 09:00 AM). Note that there is a 200 baht park entrance fee for foreigners to pay directly at the park entrance.
The terrain changes every rainy season hence now is the perfect time to discover its beauty. The trail is fairly flat but be aware that there are a couple of fallen trees to climb over and some low streams to cross. Hiking poles come in handy to remain steady on some rocks but are not essential. There is no breeze in the jungle hence an adequate water supply is important. There is only a small local shop at the entrance. It is recommended to bring your own supplies from home (water, mosquito spray, snacks, sunglasses/hat). 
The total time within the park should be around 3 hours. Buses back to BISP will leave the National Park at 12 noon, arriving at approximately 12:30 PM back on campus. We look forward to seeing you there.
Please contact activity leader Barbara Ashbrook via [email protected] for more information.