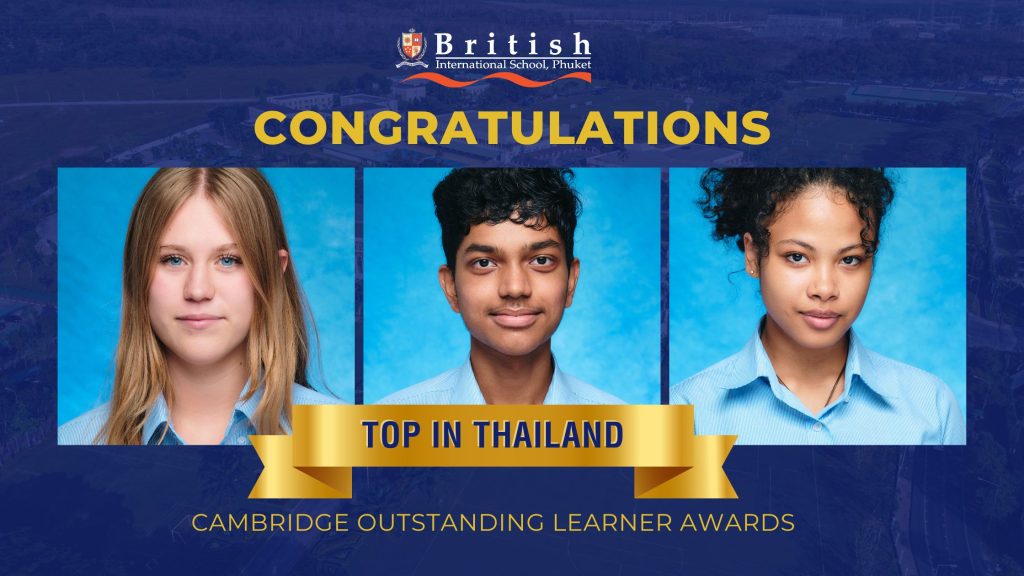 Congratulations to BISP students Imogen, Rithwik and Charlotte who have been awarded Top in Thailand & High Achievement in the Cambridge Outstanding Learner Awards. 
Imogen Crossland Top in Thailand for World Literature in the June 2022 Exams

Rithwik Chokkalingam Top in Thailand for Mathematics in the November 2021 Exams

Charlotte Ovide-Etienne High Achievement in Foreign Language French in the November 2021 Exams
The award ceremony will be held in Bangkok on Saturday 26th November and we look forward to sharing this celebration with the students. Thank you to the staff who also contributed to the students' education in all subjects and helped them achieve these awards. 
We are delighted that Rithwik, Charlotte and Imo have achieved the highest accolades from the Cambridge Examination Board this year. These awards are testament to their exceptional hard work and commitment to the IGCSE programme. Thank you to our wonderful staff who have guided and inspired these students – and countless others – to really 'be the best they can be' in such a range of disciplines.

Neil Crossland – BISP Secondary School Principal
As part of the Outstanding Cambridge Learner Awards, "Top in Country" awards are a group of awards issued by Cambridge Assessment International Education that recognise exceptional learner achievement in Cambridge examinations around the world.  The 'High Achievement' reflects a Top in Thailand achievement for subjects with smaller cohorts
To learn more about the IGCSE and our Secondary School at BISP, visit: https://www.bisphuket.ac.th/core/secondary/