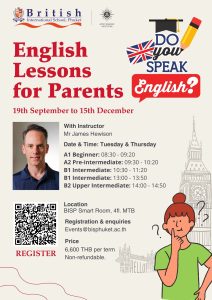 BISP is pleased to announce that we will continue to offer English Lessons for BISP Parents. The lessons will be held Every Tuesday and Thursday from 19th September until 15th December 2023 in the BISP Smart Room, 4fl. MTB.
The classes will be held as follows:
A1 Beginner: 08:30 – 09:20 

A2 Pre-intermediate: 09:30 – 10:20

B1 Intermediate: 10:30 – 11:20

B1 Intermediate: 13:00 – 13:50 

B2 Upper Intermediate: 14:00 – 14:50 
The cost per term is 6,600 THB and includes a total of 24 lessons ( 22 lessons + 2 make-up classes for any missing lessons). Please note that this price is non-refundable for any cancellation. 
Parents can sign up via the English Lessons Term 1 Form or contact [email protected] for more information.