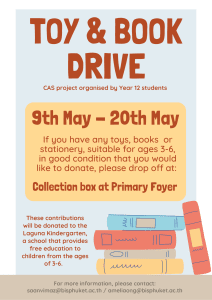 Y12 students Saanvi and Amelia are running Toy and Book Drive for their Creativity, Activity, Service (CAS) project. As part of their IB Diploma Programme (IBDP), students are required to complete a CAS project as one of the three essential elements. 
The three strands of CAS, which are often interwoven with particular activities, are characterised as follows:
Creativity – arts, and other experiences that involve creative thinking.
Activity – physical exertion contributing to a healthy lifestyle, complementing academic work elsewhere in the DP.
Service – an unpaid and voluntary exchange that has a learning benefit for the student. The rights, dignity and autonomy of all those involved are respected.
In order to demonstrate these concepts, students are required to undertake a CAS project. The project challenges students to show initiative, demonstrate perseverance and develop skills such as collaboration, problem-solving and decision making. 
Saanvi and Amelia's project is looking to collect toys, books and stationery that is suitable for 3-6-year-olds. The pair hopes that they can collect the items which will be donated to a local kindergarten that provides free education to students in the Laguna area of Cherngtalay.
When asked about what inspired them to set up this initiative as their CAS project, Saanvi and Amelia have stated that: 
​​"As students in BISP, we both acknowledge and appreciate the different opportunities and resources available to us. Last year we discovered a kindergarten in Laguna and learnt that it provides free education to its students. The kindergarten project was started to help members of the local community who were having challenges financing their children's education. By initiating this book drive we aim to provide the students in the school with more academic and recreational resources, in an effort to improve and enrich their experience in the school. We also wish to show our appreciation of the generous teachers and staff involved within the kindergarten"
BISP community members can drop off any of the requested items in the collection bins set up in the Primary School foyer at the main school entrance. All support towards the students CAS project will be greatly appreciated.
Visit the IB website to learn more about CAS: https://www.ibo.org/programmes/diploma-programme/curriculum/creativity-activity-and-service/