The BISP Year 10 IGCSE Business Studies students are gearing up for an epic Market Day Challenge. This thrilling event will be the pinnacle of their Marketing topic, which they've been studying as part of their IGCSE course.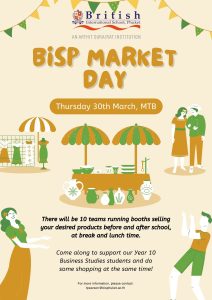 Get ready to witness ten teams of budding entrepreneurs from Mr Pearson and Mr Pollock's classes, as they take on the task of creating a new business idea and sourcing a portfolio of products from a local wholesaler in Phuket. On Thursday 30th March, they will unleash their creativity and entrepreneurial skills to generate maximum profit from their initial investment of THB 2,000.
The pressure is on as these students race against the clock to create and market their business concepts, perfect their ideas, and add value to their initial investment. With the title of Market Day Challenge champions up for grabs to the most profitable team.
See you there!