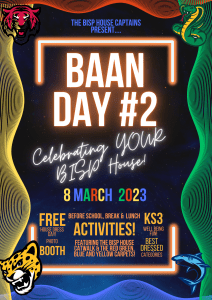 Join us for BAAN Day #2 presented by the BISP House Captains! This exciting event is all about Celebrating YOUR  BISP House, connecting with other people, and feeling good about belonging to your BISP House community. Taking place on 8 March 2023, the day will be filled with activities throughout the school day.
Students are encouraged to dress up in their house colours or as their House Animal for the House Dress Day!
The Primary school will host a House Maths challenge that will be happening throughout the day and will be running some wellbeing activities alongside the Maths challenge.
KS3 will be introducing the BISP BAAN Day 'Dollar Drive' as we challenge students to 'bring some Bahts to make a start' to raise funds for our Service projects!
But that's not all – we have so much more in store! Get ready for a photo booth, wellbeing fun, and the BISP House Best Dressed Award. We will also be featuring the Red, Green, Blue, and Yellow Carpets where you can strut your stuff and show off your house pride for House Points. We will be introducing the House 'Impossible Shot' – or is it? Hit the target and watch one of your favourite teachers get wet in the House Teacher Dunk Tank! With various activities to choose from, there's something for everyone. Don't miss out on this unforgettable event and opportunity to prove that YOUR House is the one to belong to!