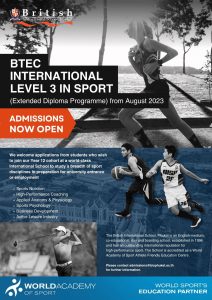 British International School, Phuket is thrilled to announce that admissions are now open for BTEC International Level 3 in Sport (Extended Diploma Programme) from August 2023. 
We welcome applications from students who wish to join a world-class international school to study a breadth of sport disciplines in preparation for university entrance or employment in fields such as: sports nutrition, high-performance coaching, applied anatomy and physiology, sports psychology, business development and active leisure industries. 
BISP is known for its outstanding international reputation for high performance sport and is and is proud to be accredited as a World Academy of Sport Athlete Friendly Education Centre.
Please contact [email protected] for further information.