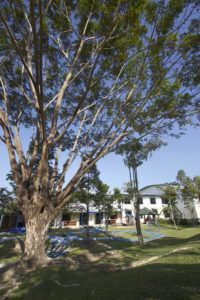 Did you know British International School, Phuket (BISP) is home to 30 different plant species and an estimated 900 trees? With a student body of 875, that's one tree for every student.
These trees and plants not only add to the wonderful aesthetic of our large, 44-acre campus, but they literally breathe life into it: emitting oxygen and improving air quality.
Trees provide shade in our playgrounds — their leaves absorbing the sun's radiant energy and reducing UV-B exposure so our students can happily enjoy our outdoor spaces. Trees and shrubs combat climate change by breaking up the heat and releasing water vapour into the air. They support numerous wildlife, both big and small, and benefit the health and wellbeing of all people — especially children.
Trees may just be synonymous with BISP. Together, over 50 prominent monkey pod trees form an enchanting archway outside our school gates. In the Early Years playground grows one of the school's oldest monkey pods — its sturdy 26-year-old roots boastfully protruding from the ground. The tree evokes many thoughts and questions from the young inquisitive toddlers who play at its
foot.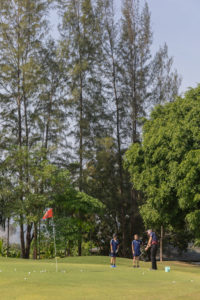 Trees are, without a doubt, one of nature's greatest gifts. Through trees, children discover small treasures like bugs and bird's nests, brightly-coloured flowers, fruits, or fallen leaves that enrich the soil. Trees provide food for many. In the Primary playground, you will see a number of Dolichandrone serrulata trees, which produce a beautiful white flower often used in Thai cooking.
The Primary School is also home to many golden shower trees. With their vibrant yellow flowers, the tree is one of Thailand's national symbols — and an organic representation of King Rama IX. 
Among our eight boarding houses, sweet frangipani trees grow alongside fragrant queen's flower trees, which produce seasonal purple blossoms. Coconut and teakwood trees surround BISP's upper fields, offering the perfect tropical backdrop for a game of football. Outside the sports hall, the leaves of several masterwood trees rustle in the wind. 
Our Ravenala madagascariensis trees resemble giant fans and many are over seven meters tall. Their Thai name translates to 'fanned banana', and they are commonly known as the 'traveller's tree'.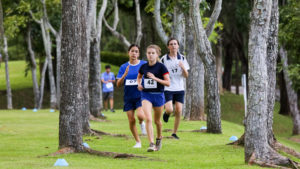 On the walk to the refectory, students often pass towering Dominican mahogany trees that border the school's lower fields. Half a dozen banyan trees, with their thick, woody trunks can also be found throughout our campus — majestic in meaning as well as footprint. They need space, and BISP is fortunate enough to have plenty of it.
Near our Brahma shrine is a flourishing lotus tree. The lotus is often associated with the Brahma God, known in Hindu as the creator of the world and all creatures, which is why it was planted there. In Thailand, the lotus is a symbol of prosperity and purity and many believe it represents spiritual awakening.
Last year, a special benjoin tree was planted near the Main Teaching Block in memory of Mr Iain Richardson, our former Head of Science who passed away. In Thai, benjoin means 'protection' — a symbolic and fitting tribute to a much-loved teacher and colleague.
To learn more about BISP's thriving plant-life, please visit the BISP Green Love Eco Week booth in the Primary Foyer from 2-6 March. For more information about BISP, please contact [email protected].