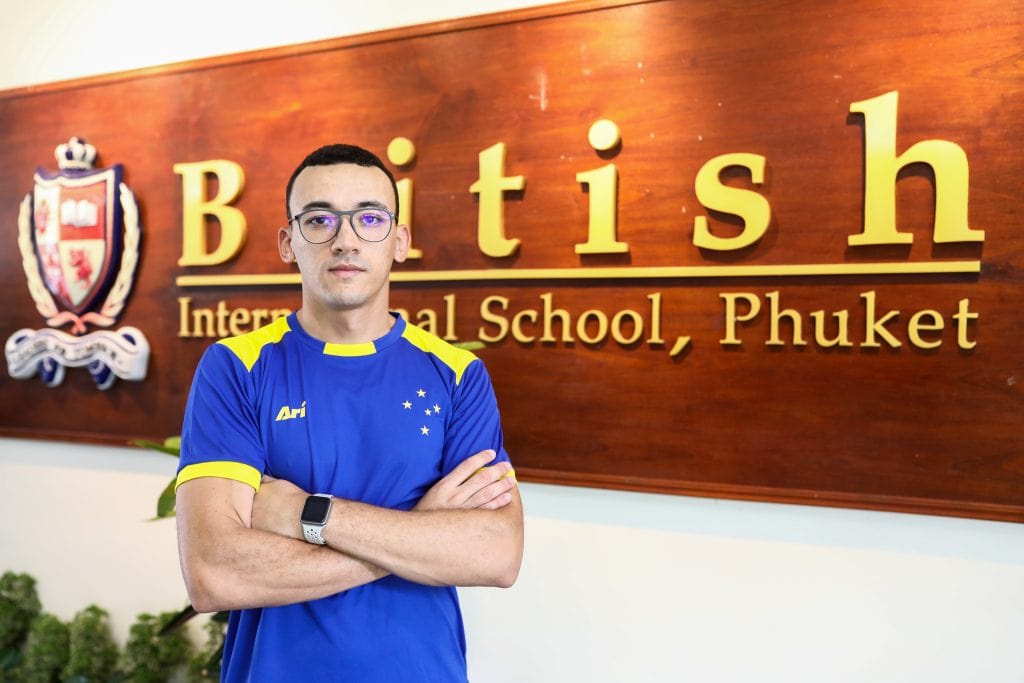 Allan Nascimento joins the BISP team as a football coach. Originally from Conselheiro Lafaiete in Brazil, Allan played for clubs in Brazil on youth teams and also at University where he graduated in Physical Education and started his football coaching career which already adds up to almost 8 years of experience. Before joining the BISP community, Allan was a coach for the youth teams of Cruzeiro EC. Having recently completed his C licence for coaches in Brazil and a specialisation in Neuroscience and Learning, with this experience and his team spirit he hopes to share his best with the BISP community.
Join us as we welcome Allan to BISP and get to know him a little better.  
What is your role as football coach and how do you anticipate the BISP community will connect with you? 
I see myself as a coach and teacher; football is not only about how to play well, my goal is to give students the tools to learn how to play football and to enjoy the learning journey in all aspects of their lives. I hope to share a positive developmental environment with everyone at BISP.
What do you enjoy most about working in education?
The first word that comes to mind is 'challenge'. There are countless daily challenges that require being open to new learning in order to share my best with the people around me. I seek to understand the individual and collective needs, and use the best methodological strategies accompanying human development throughout the process.
What attracted you to BISP?
Throughout my life I have developed a passion for understanding the different approaches to teaching-learning.  In my trajectory I realised that being in an environment where I could have the opportunity to develop my interdisciplinary and intercultural teaching with a well-defined approach was a great desire of mine. Therefore the values of the triple helix (Learning, Wellbeing and Passion) that BISP holds fascinated me. Through friends who are or have been part of the school community I came to understand the quality that BISP shares with its community and I now feel honoured to be a part of the BISP community.
What's a professional skill, or area of interest, that you're keen to share with the BISP footballers? 
With my practical experience as an athlete and almost 8 years experience as a coach, I bring the necessary tools to the real life practice of the sport and each individual's training. By observing the characteristics of different types of methodologies through my academic knowledge, I hope to share great advice in the different situations of each level of the development process in the training sessions.
What do you like to do when you're not working?
In my spare time I like to watch and play soccer, listen to music, explore new places, and especially talk to people about their interests and their outlook on life. In Phuket, I am interested in getting to know the local culture in its various manifestations.
What behaviour or personality trait do you most attribute your success to, and why?
Courage for challenges, love in every human contact, and autonomy for daily decisions are the characteristics that give me the most tranquillity in my life. These are only possible due to all the support from my incredible family and their unconditional efforts, my faith, support from friends who are part of my journey, and all the opportunities that I have had the fortune and wisdom to take advantage of. 
What advice would you give to your teenage self?
I would certainly say to 'trust the process, always look forward with courage, love and faith. I would like to share an amazing quote from the writer Malcolm Gladwell in the book Outliers which I read years ago: 
"If you work hard enough and assert yourself, and use your mind and imagination, you can shape the world to your desires."