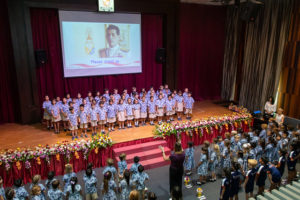 The BISP Primary & Secondary Wai Kru ceremonies were held on Thursday and Friday (September 12 & 13) this year. They featured the King's Anthem, flowers, dances, a quiz about teachers, speeches from the Headmaster and Primary Principal and a skit performed by the students.
During the Primary School ceremony on Friday the 13th, students from Years 1 – 6 came to school with their own bouquets of flowers and jasmine garlands to give to their class, assistant and specialist teachers. They not only paid their respects but also showed their gratitude and love.
The ceremony started with the Year 4 students singing the King's Anthem, which they had learnt during music lessons. Year 2 girls performed a Thai dance called "Paa Jay Raa Boo Chaa Kru" followed by a demonstration of the Year 2 boys' stylised Muay Thai moves. The highlight of the ceremony was the "Teachers' Quiz", in which students displayed their enthusiasm in answering questions about their teachers.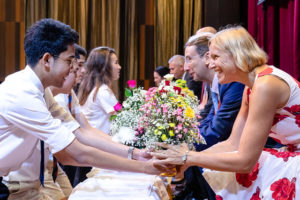 The Secondary School Wai Kru was held on Thursday 12th September. About a week before Wai Kru Day, all Secondary students had the opportunity to write special messages to their teachers. Over three hundred touching, appreciative messages were written in Thai, Mandarin, Spanish, French, Russian and English and posted on display boards in the MTB.
Secondary Wai Kru Photo Album.
The BISP Wellbeing team also ordered about 160 flower garlands for the event. Students, Thai and Foreign, paid their respects and expressed gratitude to their teachers by sending the garlands to them, which were well received. Moreover, stage performances included a classical Thai dance, a contemporary Thai Dance, a singing performance, and a Wai Kru Skit which was thoroughly enjoyed by the audience.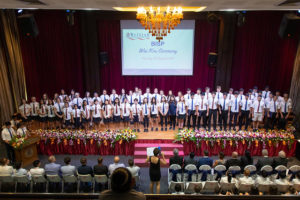 The BISP Thai Studies Department has extended their appreciation to everyone who made this year's Wai Kru ceremonies meaningful and successful.