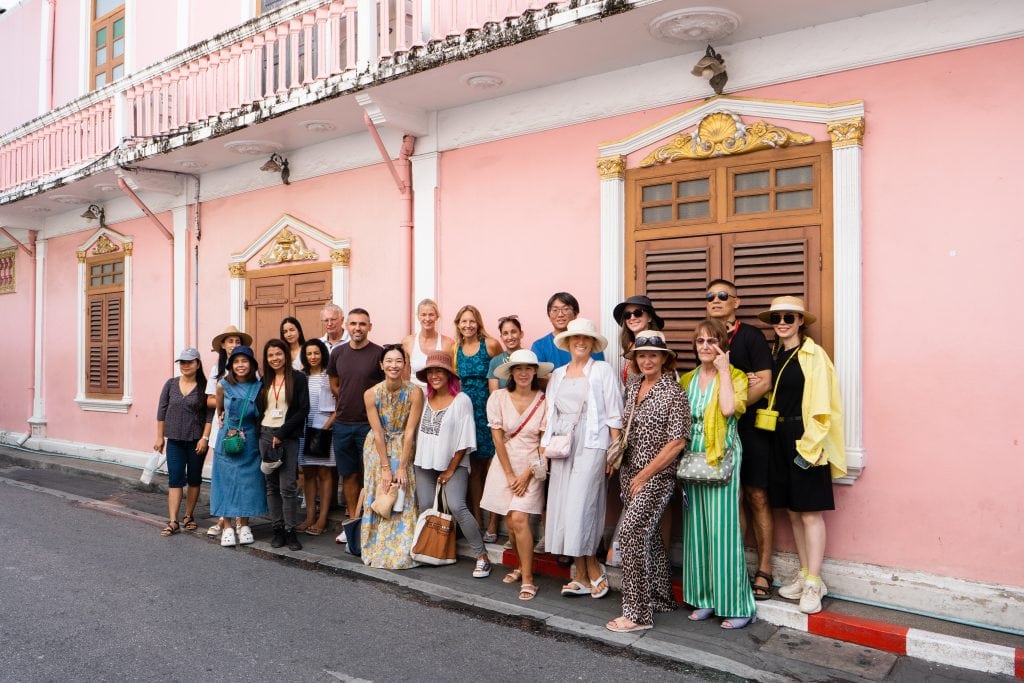 The BISP Parent Teacher Association (PTA) organised a Walking Tour of Phuket Old Town on Tuesday 28th February 2023. The tour gave both new and old BISP parents the opportunity to explore Phuket beyond its beaches and learn about the island's culture.
The tour was led by Tamsin, a parent and active PTA member at BISP. In the last few years, she has grown to know Phuket well, and she was pleased to provide BISP parents with an introduction to the island and show them around Phuket Old Town.
Parents began the tour at Limelight Avenue, on Dibuk Road and close to Sengho – the oldest bookstore in Phuket. Patents then explored the Phuket Old Town visiting sites such as Thalang Road – the heart of Phuket Town, with its Sino-Portuguese architecture, fabric and souvenir shops, cafes, and restaurants. Parents snapped a group photo on Soi Romanee –  a quaint and colourful street with cafes and dessert shops. They then proceeded to explore Yaowarat Road, Dibuk Road, Krabi Road, Phang-Nga Road, Ranong Road and Phuton Road before stopping for a much-needed refreshment at the jungle-inspired Natural Restaurant. On the second part of the tour, they explored Ranong Road, Bangkok Road and Rassada Road before stopping at Takuapa Road to connect with The On On Hotel, known for its part in the film 'The Beach'. 
The tour ended with lunch at Raya restaurant, which is an old family business run by two sisters. This Phuketian restaurant is loved by the Bangkok elite and famous Thais. Thereafter, parents boarded the school buses back to campus in time for the end-of-day pick-up. It was a day well spent, with both new and seasoned BISP parents having the opportunity to form friendships and become more familiar with Phuket.